Why buy your skates from Bayside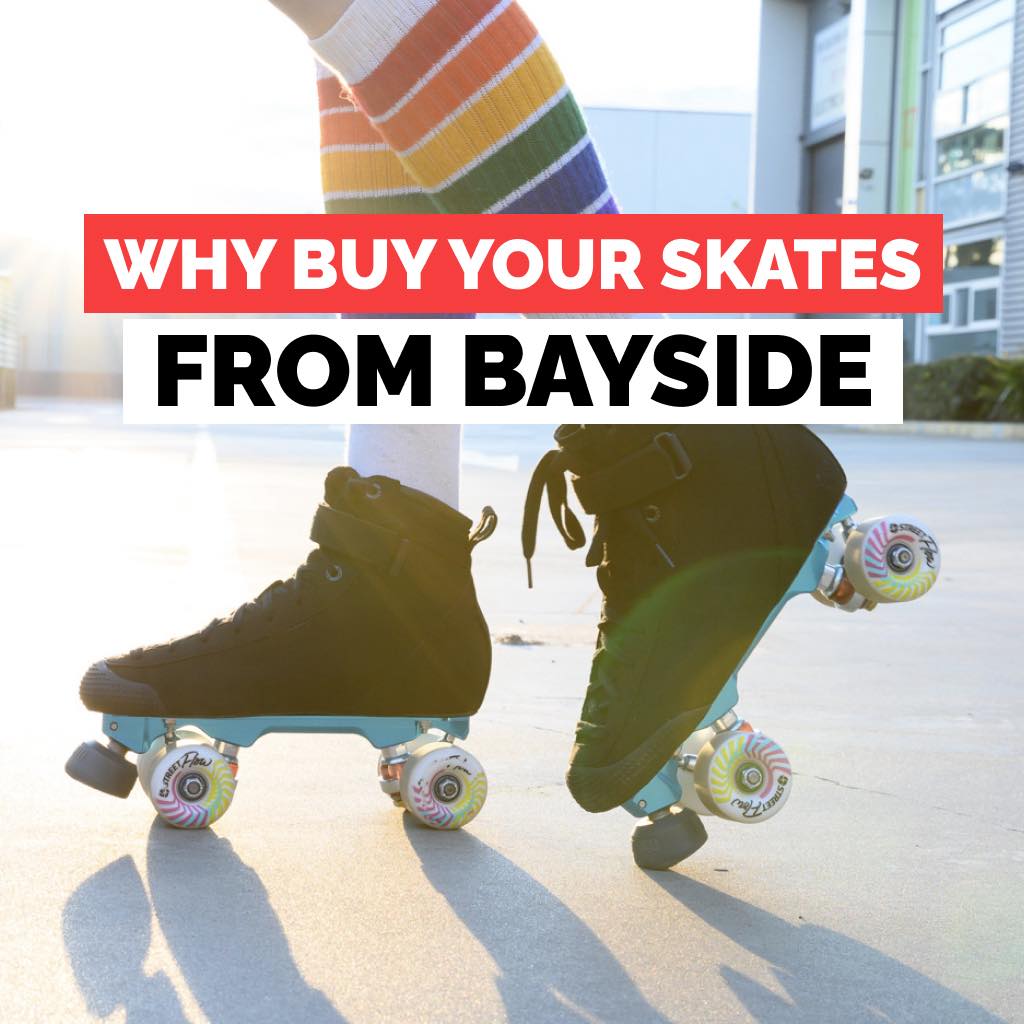 Bayside stocks the widest range of speciality skates in Australia at competitive prices for everyone - regardless of age or ability.
Whether you're looking for roller skates for the kids, want to cruise along the footpath, or you're ready to take your speed/derby/aggressive skate set-up to the next level, we've got the gear for you. Here's why Bayside is the place to get your next pair of skates.
Largest Range In Australia
As a specialty skate shop since 2003, we have the largest range of premium skates available in Australia, including derby skates, slalom skates, speed skates, aggressive skates and kids adjustable skates.
Can't find what you're looking for? Let us know and we'll likely be able to tell you when it will be in stock or help you find an alternative for your skating needs.
Skate Sizing Accuracy
Your perfect fitting skates is our mission! We want all our customers to have the best experience on skates, which is why we've developed our Ultimate Skate Fitting Guide to make sure you get the ideal skates for your feet.
We can even fit your skates over the phone or via email.
Easy Returns and Exchange Policy
You can shop with confidence knowing that if your skates aren't the right fit or you've just made a mistake with your order - simply let us know and one of our friendly team members will help you resolve any issues.
We Skate Too!
Everyone at Bayside is a skater and we have collectively over 100 years of skating experience between us! We all love to skate and are involved in lots of different styles of skating. If you have a specialist question we will be able to direct you to someone with lots of experience in that field.
Lots of Accessories
Getting accessories to match your new skates is half the fun! From skate wheels and laces, to backpacks and skate clothes, we've got those extras that make up the entire skating experience. 
Customise Your Skates
When you want to create a skate that's as unique as you, then it's time for a custom roller skate or custom inline skate. Whether you want to simply change the colours of the parts or create a completely unique set up - we love helping our customers create something personalised and special!
Flexible Payment Options
Order your new skates today and pay them off over time with easy payment options including AfterPay and Zippay.
Free Delivery for Skates
All orders over $50 in Australia get free delivery, so you can order online and get your skates delivered to your door.
Begin Your Skating Journey Today
Skating is one of the best things you can do for your body and mind. It's great for fitness, learning new skills, being active with friends and enjoying time outdoors. Check out our range of skates below or get in touch and we'll help you find the perfect skate for you.
Use our smart finders:
View our inline skate collections:
View our roller skate collections:
Need help finding your perfect skates? Contact us, we'd love to help!