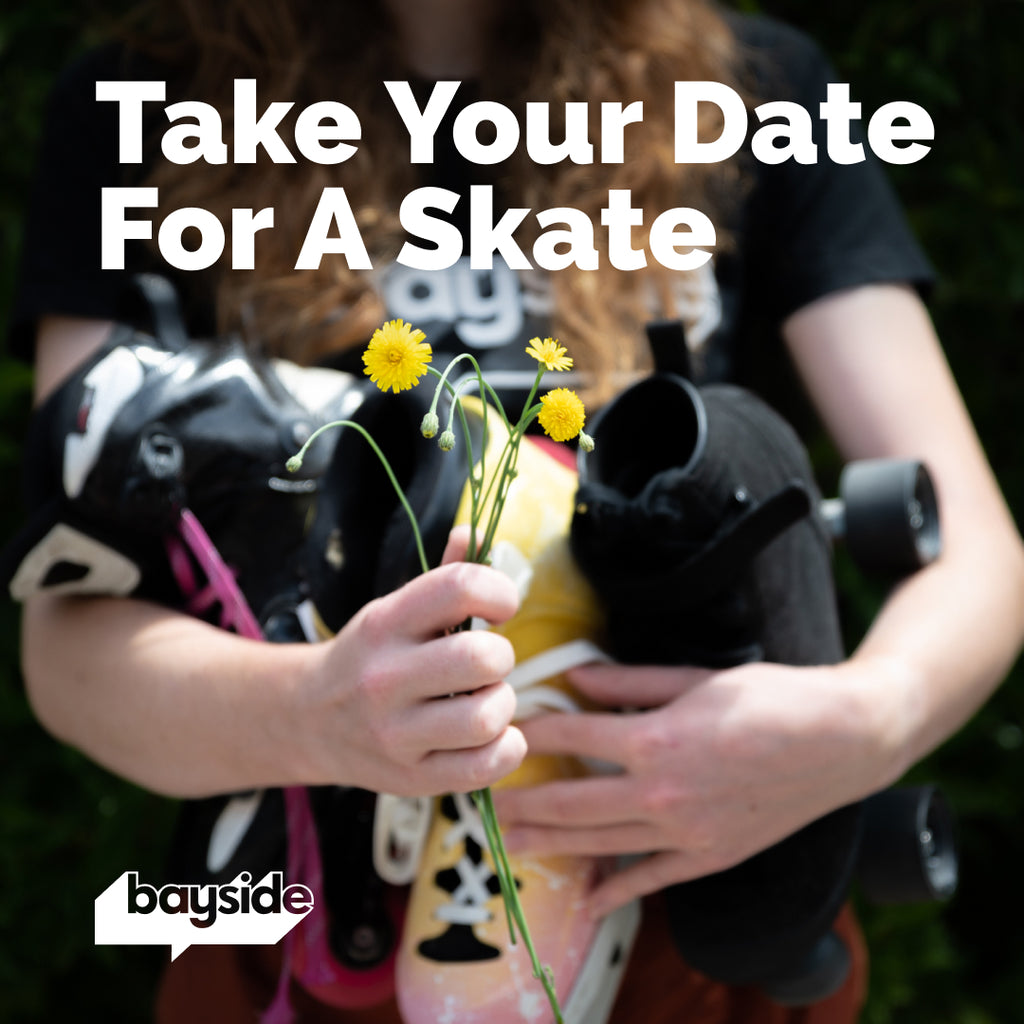 Whether it's your first date or you've been together for years, going for a "skate date" is a great way to get close, learn more about each other and have some fun (while burning some calories too).
We've put together tips, location ideas and hand-picked products to help you make the most of your skate date. Enjoy!
Oh, and be sure to share your #skatedate photos with us on Instagram too, we'd love to share them! @baysideblades #skatedate
1. Pick A Location With Smooth Terrain
Gliding effortlessly along the smooth concrete is going to be a lot more enjoyable than struggling to push across bitumen riddled with potholes. You might have a cool spot in mind, but consider the experience of getting there for both you and your date (we've listed some skate spots at the bottom of this page).
2. Choose Flat Ground With Lots of Space
It's not just about avoiding hills and busy places - the tip here is to keep the difficulty within the range of the least skilled skater. There's no need to turn this date into a fitness challenge or go to difficult obstacles to show off where only one of you is having a great time.
3. Use Protection
We're talking wrist guards, knee pads and helmets here, OK!? 😊
You can still look great and feel confident while being safe with protective skate gear that ticks all the boxes. This goes for both you and your partner so be sure that you both have the right gear or even bring along an extra set to share to show how prepared and thoughtful you are. Stay safe!
4. Take A Skate Toolkit
Keep your skate tools and spare parts handy to quickly fix any issues. Before you set off for your roll, you can tighten your bolts to help avoid those distracting rattling noises and make for a much smoother skating experience. And just in case you need to change a wheel or fix something up, you can show off your speedy repair skills (so hot).
5. Pack Drinks & Snacks
Skating (and nerves!) can make you sweat more than you think, so be sure to bring plenty of water for you and your date. You can even go the next level and pack a skate backpack with snacks and a compact picnic rug so you can sit and enjoy the view along the way (and maybe even get a 😘)
No date? No problem
Of course, if you don't have a date or you're not into all that dating stuff, then the good thing is skating is still incredibly fun!
You can always go solo, take a friend or invite a group and go together. There are lots of skating groups all over Australia which can be a great place to make friends and set up a meet up. See our list of social skating groups or search for skating groups in your local area on Facebook to find something close to you.
Where To Take Your Skate Date
When choosing a location, the most important things for a skate date are a smooth surface, plenty of space and nice things to look at along the way.
Anything else is really up to what you think you'll enjoy together most!
Here are a few places to skate in Melbourne that we love:
Princess Pier - The surface is incredibly smooth and there's plenty of room to roll. It's a unique spot by the water and great to enjoy around sunset.
View on Google Maps.
St Kilda Beach - St Kilda Beach is an iconic spot with long, wide paths all along the waterfront. The surface is quite smooth but it can get very busy on warm days so be careful of other people and bikes.
View on Google Maps.
Docklands - Those familiar with the weekly free ride skate will know Docklands well. There's plenty of space, it's quiet and there's lot to look at and skate past, including the Melbourne Eye, which makes it a great choice for a skate date. We recommend starting at the Cow Up A Tree.
View on Google Maps.
Melbourne Museum - A favourite amongst the slalom skaters, Melbourne Museum has very smooth ground and lots of space.
View on Google Maps.