Matt's Minute #1: Wheels!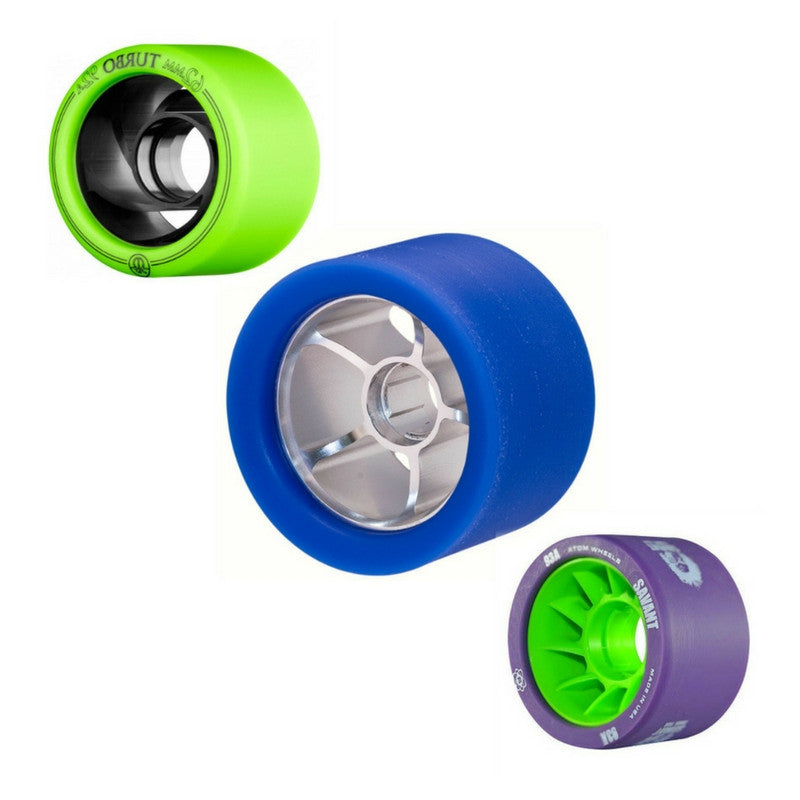 The wheels you roll can make a massive difference to the quality of your skating experience. 
Decent wheels, with polyurethane tyres instead of plastic, are one of the big key factors when spending money on great skates.
I sat down with staff member Matt yesterday to discuss which wheels he loves, why he loves them, and how to choose a new wheel.
Matt: "I've skated a huge number of quad wheels. The 'wheel library' at home is overflowing with old favourites and dependable companions. I've come to learn that wheels are very much a personal preference and that just because I love a wheel doesn't mean everyone will.
I'll talk about my three favourite wheels a bit. They're all for different purposes, so they're all in rotation throughout the week.
For flat track (derby) skating, I love the Bont Royal Assassin. It's one of the two fastest wheels on the market, as the full alloy hub lends it unparalleled stiffness and control. This also translates to brilliant edging, especially when combined with the slight lip of urethane over the edge.
With most wheels, you find a compromise between speed (roll) and grip. When they're faster, and harder, there's less grip.
The Royal Assassin seems to break this scale! They're super fast and phenomenally grippy, while still allowing some skidding and braking when you want it.
I don't feel that weight is a huge factor when buying wheels, but it's worth noting: one of these wheels with bearings is about 90g. A similar fast wheel on the market is around 124g with bearings.
They use mini bearings, which are easily the best bearings I've ever used. More on bearings later*.
For rolling around the skate park, I love the Chicks In Bowls wheels. The smaller profile gets me closer to the ground, the rounded profile keeps the contact area small, and at 98a they're some of the hardest wheels I've ever rolled. I definitely favour harder wheels for the skate park - going faster allows me to get up the bigger ramps with ease, and if I don't land something perfectly I can skid out of it and not worry about the wheels gripping or sticking too much.
For outdoor cruising, I use the Atom Pulse wheels. This is pretty straightforward - they're soft and squishy for rolling over rough surfaces. Although indoor wheels are definitely faster, they're just not as comfortable over asphalt.
In the background, some other wheels I've enjoyed: Rollerbones Turbos (for sticky indoor surfaces), Atom Poison (for learning to skate), Atom Juke and Bont Ballistic (indoor wheels on a budget).
*I like to buy a set of bearings for every new set of wheels. I can't stand wanting to go for a skate but struggling with the time to pop bearings in and out. Bearings used to be quite pricey but you can now get smooth bearings from $50-$100."
We spoke a bit more about how to recommend wheels for all the different types of people and activities we see in the store. 
There is some rule-of-thumb generic advice, which shouldn't be discounted. Smaller or lighter skaters tend to need grippier wheels, larger heavier skaters tend to need harder wheels. The advice you get from league mates is generally worth listening to, as well, as the surface you train on might have some unique quirks.
The best piece of advice is to try before you buy. Borrow wheels from a friend. If you're close to Bayside, loan some wheels from the Test Kit. Test them for more than 2 laps: do a few sprints, do a few slides and skids, think actively about using both your dominant leg and less agile leg. 
In general, the more you spend the better the wheel is. The 'premium' wheels work for more people than the entry level ones. Almost everyone who uses an alloy-hub wheel will use them everywhere and never put on plastic-core wheels.
Having helped thousands of skaters get the right wheels over the course of a decade, the staff here can definitely help you make a decision. 
Tell us about your wheels!
Which do you love, and why?
Matthew Clanahan, Bayside Blades
 Check out Matt's profile here, and his personal gear list here.