Staff gear highlight: Matt!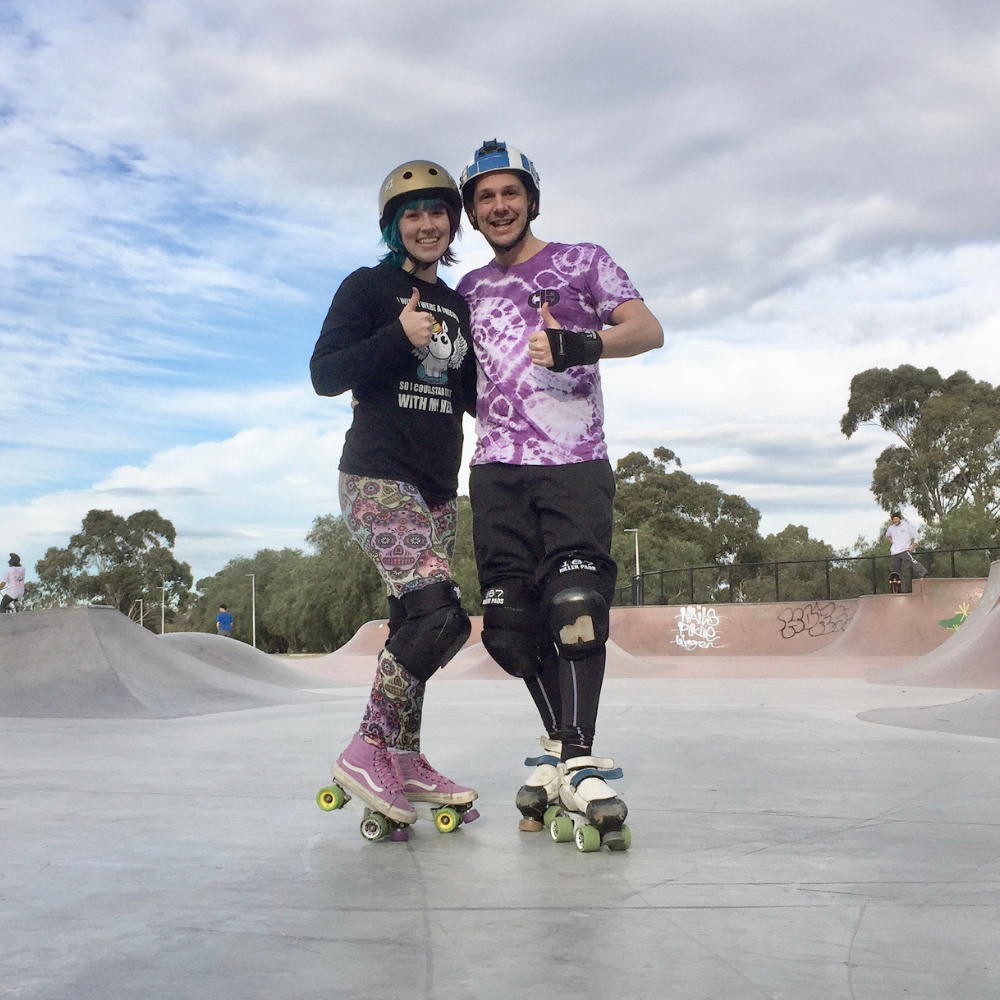 Once a derby referee, skater and coach, Bayside team member Matt is more commonly found scaling small banks and quarter-pipes at skate parks around Melbourne. In a future blog, we may review the derby setup he prefers, but today's blog focuses on the skates he uses most: custom park skates.
Boots: Bont Patriot Carbon
This is not your common skatepark boot. It's a derby boot with carbon-fibre skeleton that covers above the ankle: stiff, hard and unforgiving. He prefers these after having Achilles tendon issues from before skating, and is the first to admit that they're not for everyone.
Plates: Pilot Falcon Plus
These are a lightweight alloy plate with a particularly low 'ride height', keeping you closer to the coping for increased stability. They're not compatible with wider trucks, but are compatible with both Chicks In Bowls sliders and Disco Blox. Currently sporting the Disco Blox which feel super solid, with a great material that's easy to get controlled slide on.
Bearings: FR Storm Bearings
Literally rustproof. They need to 'warm up', so they're not as fast as some Swiss bearings out of the packet, but they do warm up and spin really well. They have felt really solid for years with zero maintenance, which is perfect for someone who spends all day fixing other people's skates!
Wheels: Chicks In Bowls Park wheels
Matt wrote a blog on wheels, you can read it here: Matt's Minute #1. Having used tonnes of different wheels, it's hard to imagine going back to softer wheels at the park: the radical speed from harder wheels means more speed with less effort! 
Toe Stops: Bont ToeGo
Matt summarises it nonchalantly: "I've used everything. They're actually not as different as many people make out, and you really can get used to anything. Bigger toe stops can help with stability earlier on, and when you know precisely where your toe stops will be you can move to pretty much anything! I am quite toe-stop heavy and used to go through a pair every 3-6 months! Moving to the grey rubber on Bionic Super Stoppers and Bont Toe Gos seems to last longest for me."
Safety gear: 187 Pro Knees, 187 Slim Elbows, 187 Derby wrist-guards, S-One Lifer Helmet
Big kneepads like vert skaters have always valued, slim and flexible elbow and wristguards. The comfiest certified helmet on the market - pretty straight forward!
Read more about Matt's background on his staff profile page, or drop him a line: matt@baysideblades.com.au