Team Rider Chris Pullar - Skate Gear List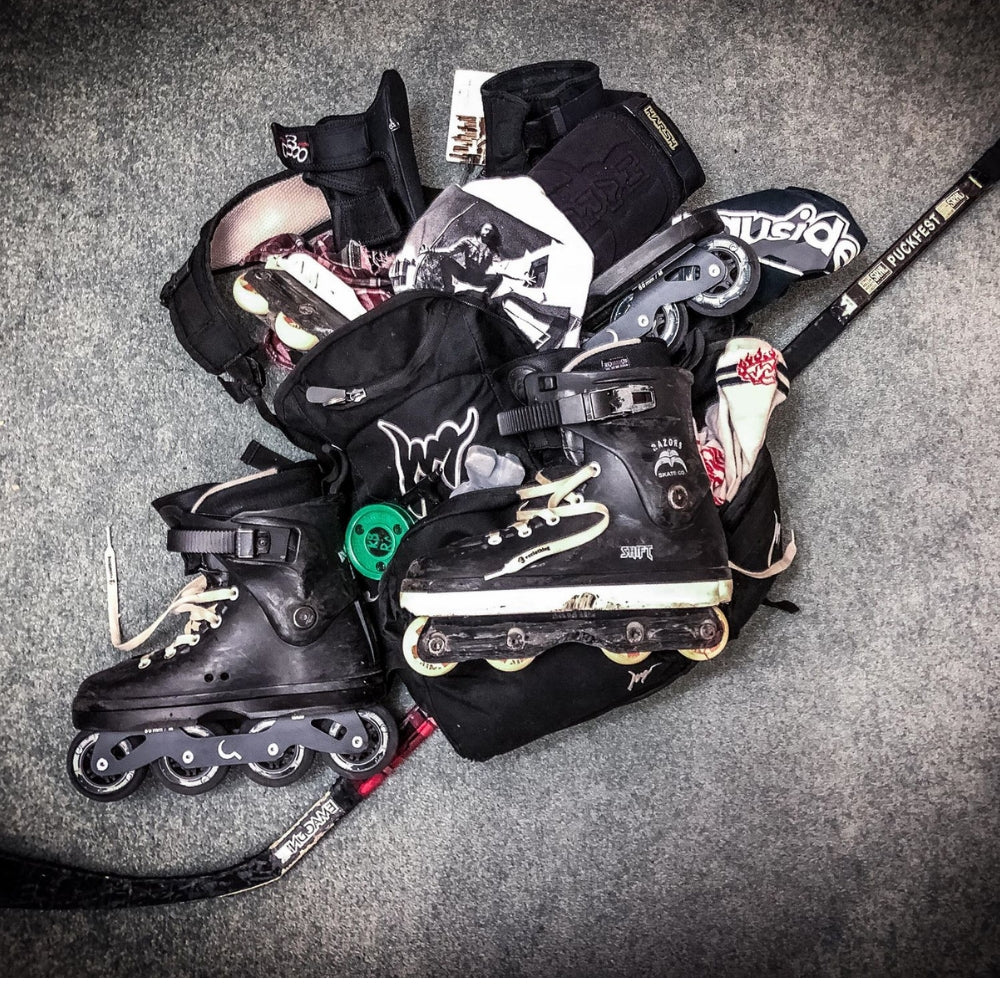 Chris has been skating for over 2 decades and has tried out a lot of skates and equipment over the years. He's definitely worked out over this time what he likes to skate on, and being a Bayside team rider, has the flexibility to chose whichever gear he wants to try out from the wide range that we stock in the store. Chris took time out to give us the low down on all his current skate gear...
The bag - You gotta have a good one that is as resistant to abuse as the rest of your gear. We're not typically careful people. Get a proper tough skate bag. My big Jug one has accompanied me around the world numerous times. So many compartments, so much space. Option to put skates on the outside or comfortably inside. Man we been places me and my bag. Don't forget to add a tag or something so you know which one is yours at the skatepark.
Check out a range of skate bag options here.
The skates - The Razors Shifts and Shift 2's are great. I wrote a review for the Bayside blog explaining why, and months after writing it I stand by everything I wrote.
You can read the review by clicking here.
I have two frame setups; one for grinding, one for rolling faster without trying.
For the faster rolling set up, I have the Ground Control FSK frame kit which has 80mm wheels and for hockey is really cool. It'll also be fun to take them to some other spots and see what we can achieve.
For the grinding set up, I use 8 wheels (usually Sic Urethane) in 57mm to 60mm depending on what wheels are out. I skate Flat. 
The pads - If the weather's not too hot for jeans and we're not just skating my backyard, I tend to pack my Harsh knee gaskets and Triple 8 EXO shin guards. It's an insurance policy that has allowed me to continue to do this the way I want to at my age. Harsh has been supporting the Inline events too, so big up to them. Good pads.
The rest - Other stuff floating around in the bag include
a change of socks, preferably Velvet Couch ones if I did my laundry
a fresh shirt for after we're done skating (Rob G's the man)
at least one piece of wax
more than one allen key including one that's a bearing popper
some spare parts like a cuff bolt and a wheel bolt
band-aids
a regulation league issue Green Biscuit hockey puck
my red checked Killerboots hockey team flannel shirt
my hockey stick which is a wooden Bauer one-piece that I've wrapped in some flannel from the ripped off sleeve from someone's jersey, and slapped on a Mindgame sticker and a couple of wristbands from the two Puckfest finals made it into.
If I'm attending a skatepark contest I'll also bring along my Protec helmet which features stickers from some of the great privately run parks I have visited over the years - much like a passport full of stamps.
 Chris: Lui-Kang 180 - New York Real Street contest 2018