Razors Shift review by Chris Pullar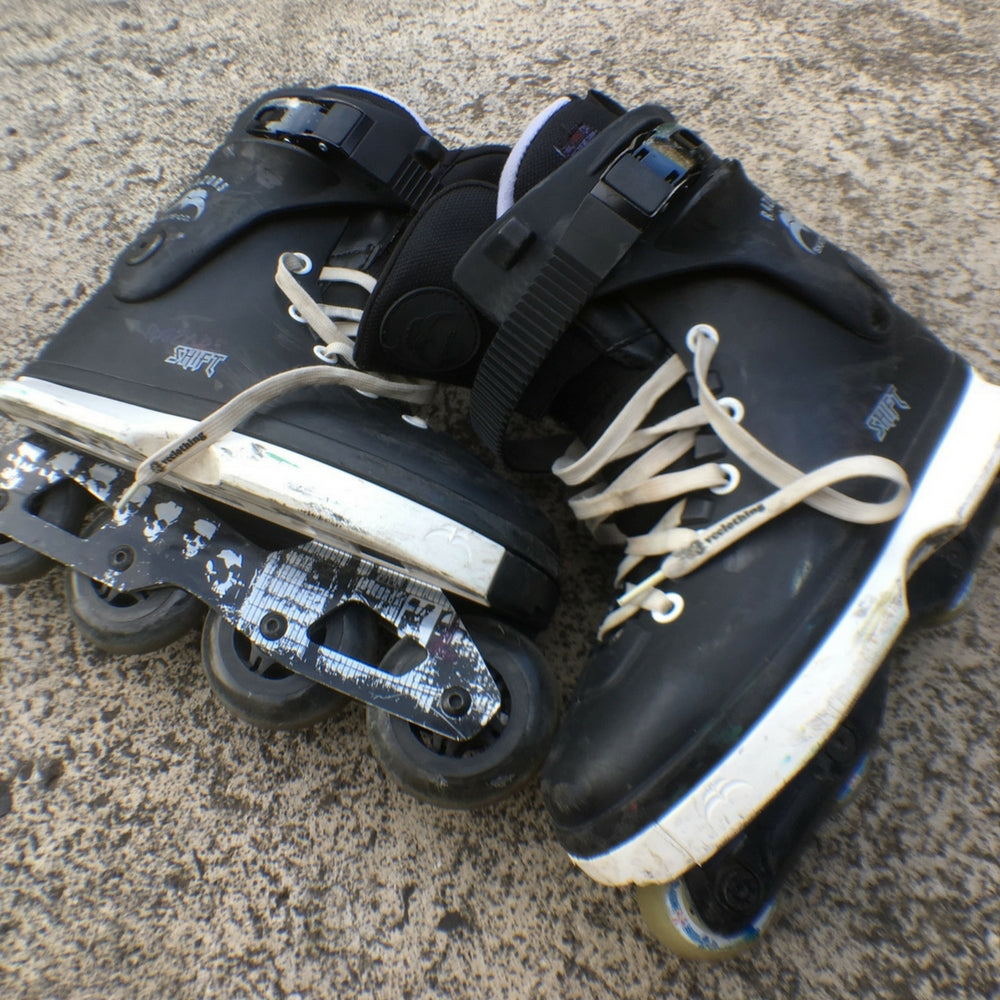 Before stating my opinions it might be appropriate to mention what they're based on, and that is one pair of crusty roller-skates, three pairs of Majestics, K2's in every which way for years before settling on the Fatty model, then riding in Razors SL's (Super Light's) for years, ever since they first came onto the scene. It's a boot that works for a lot of people, that I transitioned into seemlessly and I never had the desire to change skates. They're solid, robust and support the bigger tricks I like to do whilst still feeling manourverable on any terrain and comfortable to roll around in, they have replaceable parts, they're relatively straightforward in appearance and I was quite happy in my black boots and cuffs with white souls. I never skated the Genesis or Cults, I did eventually start rocking a Genesis cuff after seeing it work for others, and the extra flex was nice. And then I got some Shifts.
The Razors Shift, a new groundbreaking skate where with the push of two buttons you can remove your frame and soul plate and snap on a new wheel setup. An idea so crazy it just might work, they said. Well let me tell you, it turns out that the Shift life is the life for me, and that's basically for two reasons; the interchangeable frame system, and that they're a better skate than the SL's. Now if I didn't find that they were an upgrade, I wouldn't go with them, but they worked even better for me than the SL's, so the whole frame system works out as just a massive bonus really.
The boots look sleek, and were available in my favourite black on black with white souls colourway. The Shift's replaceable one piece soul plate was a pleasure to backslide on right out of the box, and the plastic slid even better on soul tricks than the SL's. They come with heavy duty waxed black laces which I swapped for a fresh white set of springy Velvet Couch ones for some definition. The cuffs are the flex of the Gen you want with but with all that buckle protection the SL cuff had. And the liner is a good one. I've been rocking liners that have their own laces for a long time and these are without laces but still hold my feet in as tight as I like them, which is tight, and the tongues have velcro in all the right places for staying straight and upright.
The fact that they skate better than my SL's was the real win. The soul space is generous and feels great to utilise. The baseplate attachment is a simple and solid design that doesn't compromise things in any way, in fact the setup feels as light if not lighter than the SL's with more spring throughout the ride. I find myself bouncing cleanly out of my landings or just taking impacts smoother in general, carving and springing around more, and keeping my feet together on forward landings with big impact feels easier and more comfortable. You can get a good feel of the surfaces of the terrain you're riding on, but still feel well cushioned.
Quick and easy interchanging of frames isn't even a concept that I would usually utilise, as I've been happy with my 58 flat setup for everything that I do, including playing in a street hockey team that some mates started. But since the Shift idea was a skate designed to have multiple personalities, it made sense to at least give some metal UFS frames a go on the hockey rink, and go they did, so nowadays with the press of four buttons I do my pucking on big wheels. Changing setups has become a two minute pit stop and I can do it without taking my skates off my feet.
I did have one instance street skating where I clipped my soul plate on the last stair at the bottom off a handrail, and the plate snapped and fell off. I got a new one from Bayside the next day, replaceable parts for the win, and I now go with the optional extra soul plate screws when taking on bigger spots. It's so great to see a brand new concept done so well on the first release, and to have it all in a boot that, all innovations aside, holds up as a great skate, makes it an exciting time to be a rollerblader.
Author: Bayside Team Rider Chris Pullar
You can follow Chris' Skating on instagram @chrispullar
'An added note from Bayside - Our team riders have the choice to ride any brand and style of skate that we stock at the shop'