Recreational vs Park/Pro Scooter heres some info to help you choose!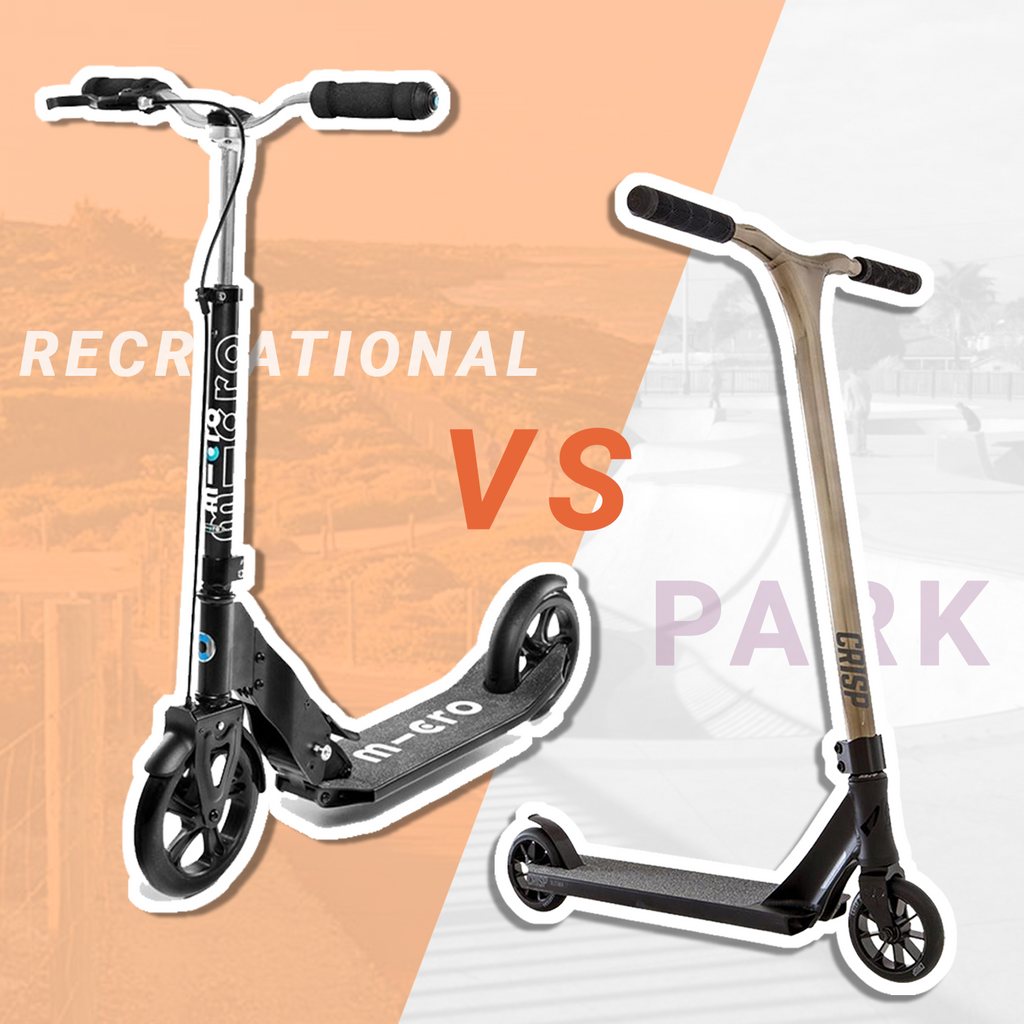 Buying a scooter can be tricky, they all seem to look the same, but what are the differences? Here at Bayside Blades, we mainly stock two different types of scooters, Recreational and Park. 
Recreational Scooters are great for rolling around the streets, getting from point A to B and cruising by the beach. These scooters come with the ability to be folded down, a feature which makes them easy to carry around and store. This makes them marginally less strong than skatepark scooters, although this extra strength isn't needed for recreational scootering. These scooters come with a range of wheel sizes, although they are often larger than Park Scooters as it makes them roll over bumps and cracks easier. Along with the folding mechanism, they also come with adjustable bars, making them perfect for a range of heights, and allows for the height to be adjusted to accommodate for growing kids. They often have a wider deck, which makes the scooter more stable. Some of these scooters come equipped with hand brakes, which is a great feature for controlling speed.
The second type of scooters we stock are Park Scooters. These scooters do not fold or adjust in height which makes them super stable and strong, which allows for users to do big jumps and tricks without being concerned that they will break. Although they don't adjust, you can still accommodate for growing room by buying them a little bit taller and allowing kids to grow into them. To further enhance the skate park experience, the scooters often have a narrower deck compared to recreational scooters, as well as smaller wheels, which make them ideal for grinds and stability.
You can, of course, use a Park Scooter for Recreational Scootering or a Recreational Scooter at the Skatepark. With different features on both, for example, the smaller wheels on a Park Scooter or the Foldable nature of a Recreational Scooter are going to make it less comfortable and easy compared to having a scooter for that specific purpose!! Give us a call on (03) 9555 7988 if you need help deciding on the right scooter for you!