Lauren Foote AKA 'Barry' - derby gear run down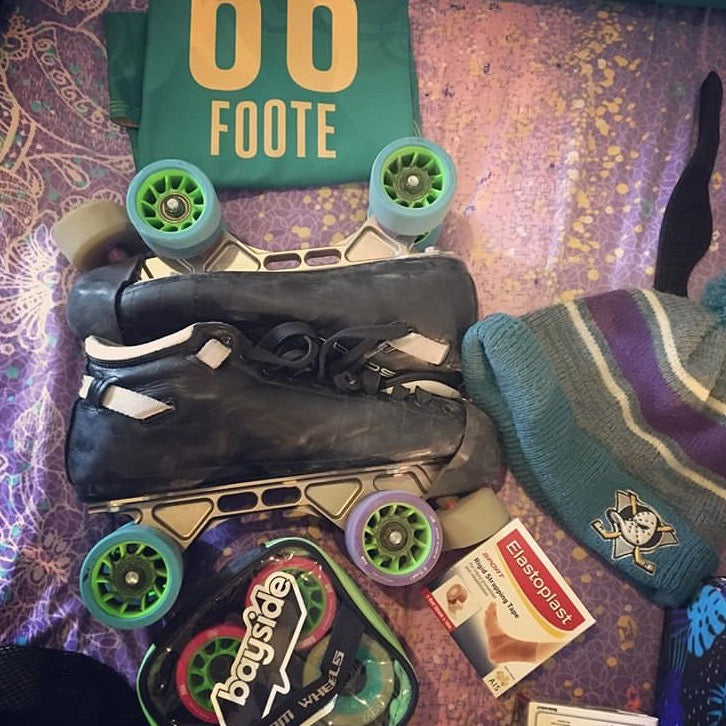 Our team riders here at Bayside Blades get to use the gear of their choice, which means they can mix between brands and really test out the gear, to customise their kit to be exactly how they like it.
Between bringing back the Gold medal from WFTDA Championships with the VRDL All-Stars, and heading off to compete with Team Australia in the Roller Derby World Cup where they brought home the silver medal, our team rider Lauren Foote took some time out to give us a rundown of what gear she is currently using.
Toe Guards - I have the form heat mouldable ones. They are great. I haven't actually tried to heat mould them though. 
Wrist guards – TSG, I like how the velcro runs further round on the mid strap
Elbow pads – slim 187s
Knee pads- derby pro 187s 
Gaskets –Just started using triple 8s. They are great. I started using them because long sessions in the heat meant the back of my legs were getting sore from my knee pads on my skin. The gaskets provide a smooth padding for the back of my knee as well as the front.  
Helmet – love my lifer S1 visor helmet. One thing you need is a micro fibre cloth to keep the visor clean from scratches and smudges. Similar to goggles for the snow, I try to avoid cleaning the inside. 
Mouth guard – I use a dentist grade mouth guard. My health insurance gives me 1 per year for free. These are the best for reducing risk of concussion. If not using a dentist grade one, the SISU ones are great.
Socks - My favourite pair of socks are my thin rainbow pair. I got these from a teammate to celebrate our rainbow pack and wore them in our Champs winning game. They are thin and mid-rise. For big sessions, I bring changes of socks. 
(To check out the big range of skate socks at Bayside click here!)
Derby ice - I tried the derby ice sweat towel for the first time on the weekend. I was surprised it stayed cold for about 2 hours while wet. It was really refreshing during a humid day to use in between jams. 
To check out Baz's skate and wheels set up head over to her instagram account
You can also read more about Lauren on her Team Rider Page HERE!