Safety Gear For Rollerblading and Rollerskating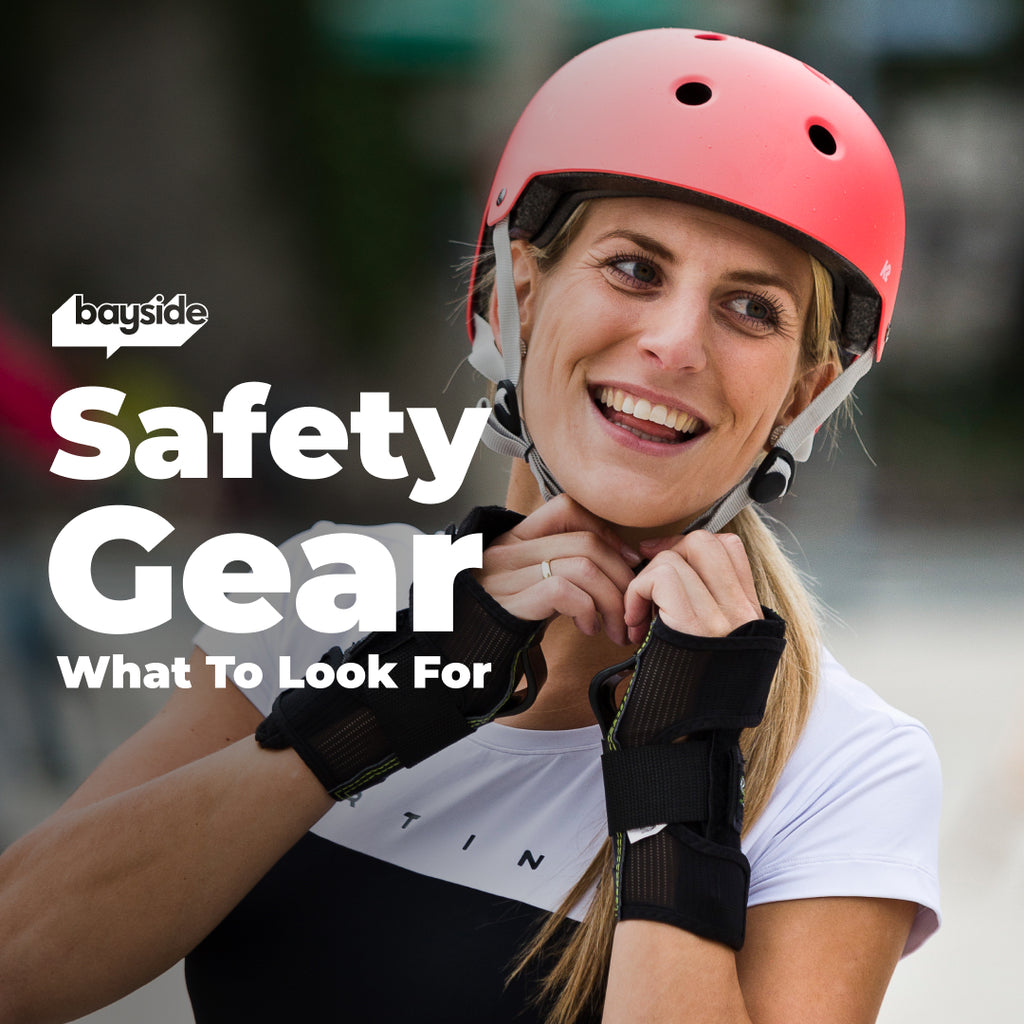 Which protective gear do you recommend wearing for inline skating or roller skating to improve safety?
The more the better!
What you're doing on skates will stipulate how advanced your safety gear should be.
Load up proactively to avoid heartache - it's easy to be grateful for having your faithful kneepads on, and almost impossible to walk away from a session wishing you'd worn less.
Protective Gear for Recreational Rollerblading and Rollerskating
Your safety gear should be lightweight, flexible and feature a mix of foam padding and hard plastic caps for both impact and scratch protection.
The tri-packs with wrist-guards, elbow pads and knee pads are always brilliant value, and can help you build good technique - bend those knees forwards, knowing you can fall onto your knees and palms and slide without losing skin or potentially breaking something.
Wearing safety gear can help reduce your tendency to stand upright, which can lead to falling onto your back, bottom and even the back of your head. Those things are all fragile, and teaching yourself to lean forwards helps with more than just security - it's a powerful, more agile way to move on wheels.
If you're on the road, or crossing busy streets, wear a helmet. A normal bike-certified helmet works, but a skate style helmet is even better for wrapping around the back of the head - again, we want to protect ourselves if we fall backwards.
Protective Gear for Skatepark Skating
There's a fun phenomenon that a lot of the best street and park skaters wear very little safety gear at all. If you're super skilled and willing to take that risk, all power to you, but while learning we strongly recommend loading up on strong wrist-guards and bulkier, super-padded kneepads at a minimum. Like skateboarders, wearing massive kneepads can help you to trust that you can bail from the biggest gaps.
The best wrist-guards for skatepark skating  are the styles that have plastic splints on both the top and bottom of each hand rather than the more recreational flexible ones.
As you get better you may remove the helmet, but indoor skateparks often need you to wear them legally and a lot of the best skaters in Australia set a good example for helmet use - Bayside Team Rider Matt Caratelli is a perfect role model, he wears a helmet every time he puts skates on.
Derby Skating
The WFTDA requires you to wear a lot - wrist guards, knee pads, elbow pads, as well as a helmet and a mouthguard.
Just like skatepark skating, we focus on massive knee pads (they're almost helmets for your knees!), so that you can fall and recover instantly.
Some players prefer flexible wrist-guards because players have to be able to 'brace' one another, forming protective walls to stop the opposing team from passing them.
Some players also choose to add Bumsavers (padded shorts) or shinguards, and many players choose to equip helmets with visor attachments to fend of wayward fingers and elbows. These things are not required but can make your derby journey smoother.
Wheels On Your Feet
We want you to enjoy skating the same way we do! Keep your body fresh and strong so that every session is a good time, and the next session is just around the corner.
You'll never get scare tactics or mothering from us, just the truth - some days it's too hot for elbow guards. 
Some days you think you'll stay within your scope of easy tricks, but still have a silly fall and wish you were wearing more safety gear.
It's all part of your safety journey and the more you know, the safer you'll be.
Read this section on safety gear, and more about building a DIY Backyard Skatepark, on Porch.com : How to DIY Backyard Skatepark.