Roller Skate Review: Moxi Jack Boot by Jess Jackson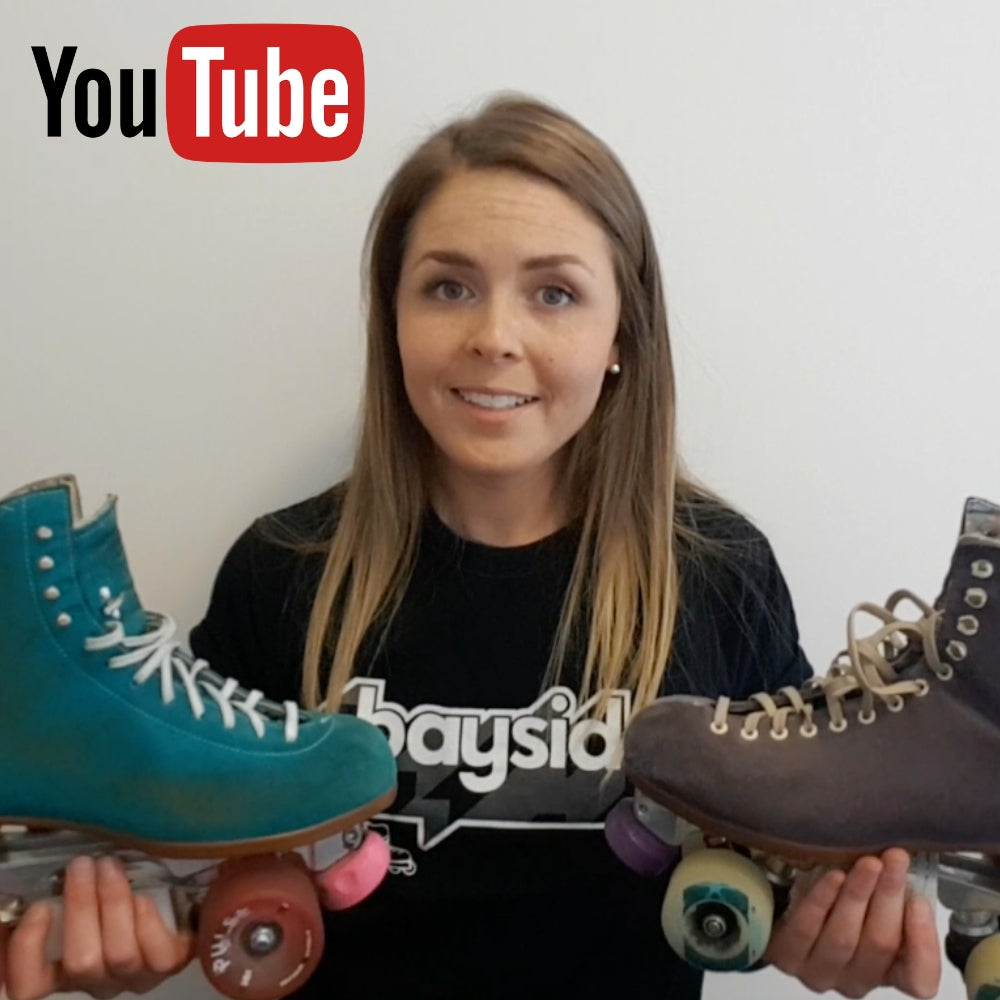 What's the difference between the Moxi Jack boot and the regular Moxi Lolly boot? Our team rider Jess Jackson has been riding both boots for a while now, so brings to you all the info you need to know!
You can follow Jess Jackson's roller skating adventures on Insta: @jessiejackson 
Mentioned in the video:
Video Transcription:
Good day. My name is Jess from Bayside Blades. In this video I'll be talking about the new the Moxi Jack Boot and providing a comparison between the Jack and the Lolly Boot.
So the Jack Boot is the second roller-skate to be released by the Moxi brand. The first skate they released you might be familiar with is called the Lolly Boot.
Now in Australia the recommended retail price for the Jack Boot is five hundred and fifty dollars. Now that's just for boot. It excludes the plate, and anything attached to the plate. Whereas the Lolly Boot retails for three hundred dollars. Now that's a big difference in price. So let's take a look at what some of the main differences are between the two skates.
So the Jack Boot has been designed as more of a high performance skate. And the way they've done this is by lining the suede fabric with a really thick padding and also a stiffener. And what this means is that the skate is able to offer your foot and ankle a significant amount of support in cushioning. When you're wearing these skates they feel very secure and you have minimal flex in the ankle.
This is really beneficial for any kind of skating activity where you really need as much support as possible. So things like skating at Skate Park or street skating, jumping off things or jumping over things. I've personally found that the extra support has given me a really big boost in confidence to try new things. It's almost like using a more capable skate makes me feel like a more capable skater.
Another benefit to using a really stiff boot with minimal ankle flex is that all of your energy is pushed directly down into your plate and wheels. What this means is that you're able to generate more power and speed, and it also increases the responsiveness of your skates. This is probably the best thing that I noticed when I put these on. To slalom from side to side was very easy. The skates would go in different directions with minimal effort required. This kind of responsiveness has also been really beneficial for jam skating and roller dance.
When you first purchase these skates they will feel pretty hard and stiff. Moxi do recommend ten hours of recreational skating to break them in. I personally skated mine for maybe seven or eight hours before they felt really comfortable but to be honest I felt really comfortable from the moment that I put them on. I think it's more just a matter of getting used to the feeling of skating in a hard boot and feeling really securely strapped in.
So by comparison, the Lolly boot is made of the suede fabric. It doesn't have any kind of padding or stiffener. It still has the reinforced toe and heel which gives the boot its shape. But as you can see there's a lot of flexibility in the ankle, and the shoe is quite soft to touch. The Lollies are really suitable skates for more of a recreational skater. Someone who wants to just have a roll around the rink or roll around the street. While they're not designed to be a high-performance skate like the Jack Boot, they are still a very capable skate. I used these for many years. I skated them a lot and I skated in the skate park and did trick skating around the streets. I had absolutely no problem using them, but now that I've used the Jack Boot I realised that all of that skating is made a lot more difficult when you're using the Lolly boot.
So let's take a look at some of the other differences. So the Jack Boot tongue is lined with this sheepskin wool. They fit really comfy and snug and it really helps with the secure feeling of the skate. By comparison, the Lolly tongue is just made of the suede fabric and the problem that I had with the Lolly tongue is that while I was wearing the skates, the tongue would slip off to the side. The way that I overcame this problem was by using waxed laces which helps the tongue to stay in place. It's not a completely successful fix, but it was a lot better than what the skates were like originally.
But Moxi have obviously recognized this problem of the tongue slipping off to the side and they've incorporated these lace bars into the tongue. The idea behind this lace bar is that while you're lacing up your skates, you wrap the laces around this bar and it helps the tongue stay in place. To be honest, I've never actually used the lace bar. I find that the tongue stays in place by itself.
The Jack Boots come with wax laces which is fantastic. The wax means that the laces stay in place, they stay tight, and it's probably the main reason why the tongue actually stays in place. The Lolly laces are just made of a basic fabric. They're actually quite slippery and if you use them you will find that after skating them for a period of time they will loosen off and you have to stop and tighten them. A really easy way to overcome this problem is to just buy yourself some waxed laces.
The Lolly lace, eyelets, and also the hooks you can see they're quite scuffed up and also the hooks tend to bend out of shape. Mine have bent down. I'm assuming this is because I've fallen on them at some stage. Other skaters have the problem of the hooks bending up. This will happen if you are pulling your laces out while you are doing them up. Moxi have overcome both of these problems by firstly eliminating the eyelets altogether and by secondly using smaller stronger lace hooks. These things feel really durable. I doubt they'll be bending anytime soon.
The Jack Boots also come with these straps which makes it really easy for pulling the skates on and it's also really handy just to use for carrying the skates around. Both the Jack and Lolly Boot have the same vintage fabric lining. And they both also have the suede outer.
The Lolly Boot comes in six different colours, whereas the Jack Boot comes in this stock jade colour. You do have the option to pay an extra one hundred and fifty dollars to customize the colour of the Jack Boot to any of the original six Lolly colours. On both of my skates I use a protective suede spray just to keep them looking as good as possible for as long as possible.
Now the Jack Boots come in half sizing, whereas the Lollies only come in full sizing. I'm a snug eight in the Lollies whereas the eight in the Jack felt quite tight so I opted to get half a size bigger. But after a few weeks of skating I found that the skates became looser, only buy a few mil, but it was noticeable and annoying. I don't want to have any foot movement in my skate. I think what happened was that the padding compressed slightly due to wear. It was really easy to overcome this by using a thicker innersole. Now they fit me perfectly, but in hindsight I would most likely just get the same size as my Lollies if I was to buy another pair of Jack skates.
So what's my personal preference between the two skates?
I have to say I definitely love the Jack Boots. After skating the Jack Boots for a couple of months now, I went back and skated my Lollies just for comparison and I really couldn't believe the difference. It almost felt like I was skating in toy skates. Now there's absolutely nothing wrong with the Lolly skates. I skated them for years and I had absolutely no problems with them. But after experiencing all of the advantages of using my Jack Boots it was a real shock to go back and skate my Lollies.
So if you're fairly new to skating or you just want to have a bit of fun and do some recreational rolling, the Lollies would most likely suit your needs. Or if you're on a tight budget these skates are definitely worth every cent. On the other hand, if you have the cash to spend you should definitely consider investing in a pair of Jack Boots. These things are amazing. If you plan on spending a lot of time on your skates, if you'd like to hit the streets, and do some tricks and head to the skate park, you can't go wrong with the Jack Boots. These things are built for performance and comfort and that's about it. Hopefully you found this video helpful. Any questions please ask.
Thanks so much for tuning in and I'll see you next time.
---
You can follow Jess Jackson on Insta: @jessiejackson. Follow Bayside on Insta too :) And for more videos like this be sure to subscribe to Bayside on YouTube.