Moomba Inline and Quad Competition Report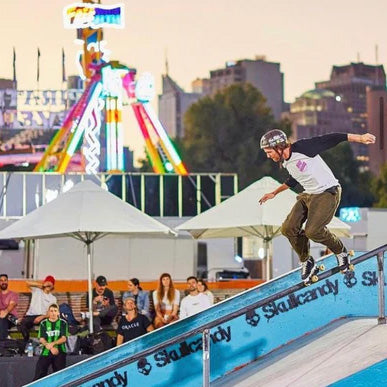 On Thursday 9th March, Moomba festival held the Riverslide skate competition where for the first time in around 10 years inline competed and for first time ever roller-skating competed. This is a huge step for the future of inline and roller-skating being taken as an official sport. The day was filled with good music, food, skate stalls and fantastic skating.
There was a fantastic turn out with skaters to fill up all the categories.

Here are the results:

16& Under:
Inline
Daniel L
Iruii K
Svetalana K

Quad
Sienna M
Chelsea M

Inline Open:
Quinton F
Zach H
Liv M

Roller skate open:
Patrick C
Lexi E
Keeks

Roller skate sponsored:
Chris P
Max C
Ruby P

Inline Sponsored:
Dan R
Martin G
Tom R

We would like to thank the sponsors; Bayside Blades, Brunny Hardcore, Chuffed Skates, as well as The Y for making this happen!
We hope to see Roller Skating and Inline Skating at the Moomba festival again next year, along with plenty of new skaters of all abilities giving the competition a go!
(Photo taken by Moomba Festival Staff, found on Moomba Festival Instagram)