Event recap: Bruns Blade Battle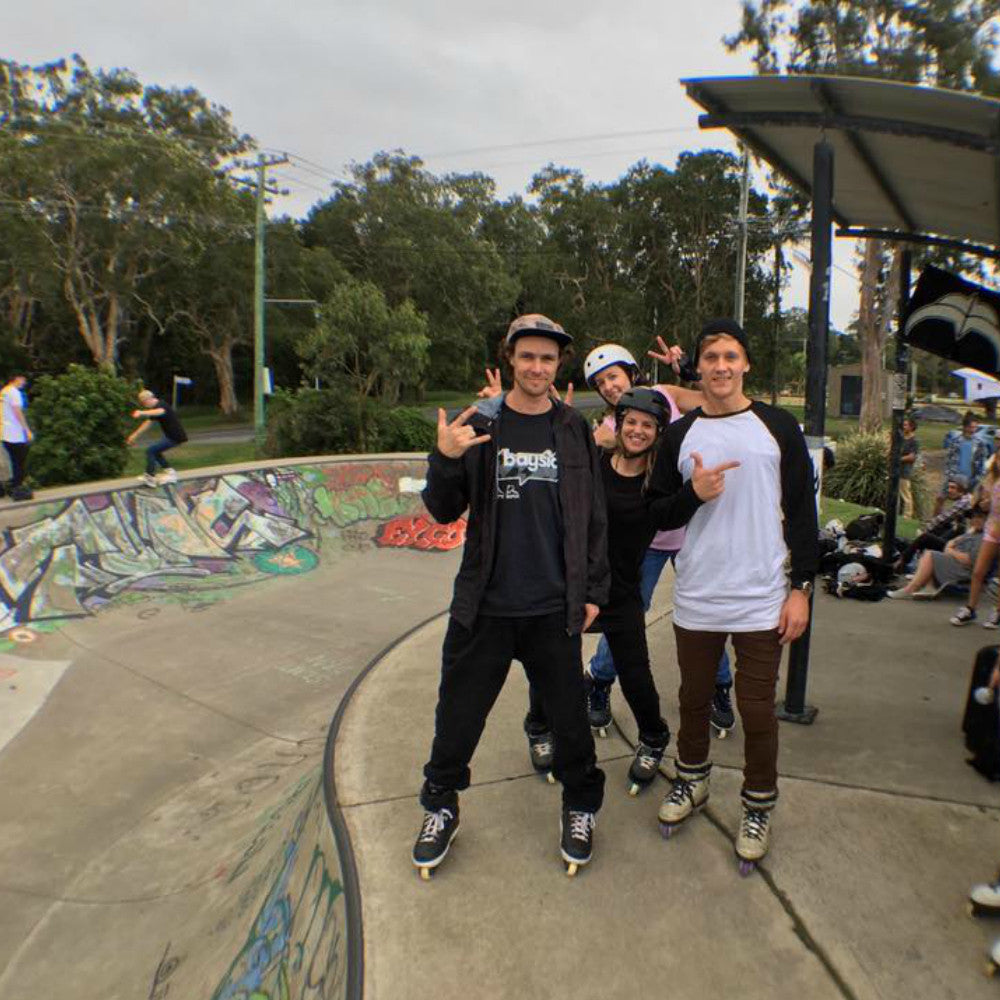 BRUNS BLADE BATTLE 
Putting on an event takes some organisational skills, some useful mates, some determination and a bunch of enthusiasm. There are two blokes who became friends working at a fish shop in the Northern Rivers region of NSW, who have all of these things. Bert Hardman, aged 32 now lives in Brisbane but is a former Brunswick Heads local, and his friend Brett Hogan, aged 38, who Bert got into skating for 4 years ago and is the oldest grom you've ever met and CAN true fishbrain, both felt that NSW hadn't hosted enough core blading events lately to satisfy their tastes, and they were convinced that they could change that. The date was announced, the word was spread and arrangements were made by people traveling in from northern and southern directions. The sponsors were on board and prizes and cash was up for grabs, as well as Northern Rivers supremacy at the inaugural Brunz Blade Battle, with your hosts Bert & Brett.
With attendees and entrants from Victoria, NSW and Queensland, it was the most significant event to go down in NSW since the days of the Goulburn Fruit Jam in 2010/11. The bowl event hosted some great skating and saw more competitors than the boys had envisioned. The street course event was rained out before things got started due to the uncharacteristic but imminent downpour which was forecast, much to Brett's disappointment who had been saving a few tricks for the street event. Instead, big picnic shelter back in town became the perfect spot for a rail and a box to be set up to entertain the crowd for the rest of the afternoon. The evening kicked on at a local pub which hosted the awards ceremony and some live metal for us to get loose to, an exciting end to a jolly weekend.
"If you build it they will come", and Bert and Brett were familiar faces at other blading events and when they decided to create something they had the people's confidence behind them. Our hosts were more than happy with the support the event received and its success has affirmed their intention to host it again next year.
About the Author:
Bayside Sponsored Skater Chris Pullar has been shredding streets since the early 90's.
He has a reputation for going hard, jumping huge gaps and 100% committing to every hair-brained trick he's ever attempted.
Watch him skate HARD in the rain with no regard for personal safety on the Bayside Instagram page.