Team Rider Claire Brown - Skate Gear List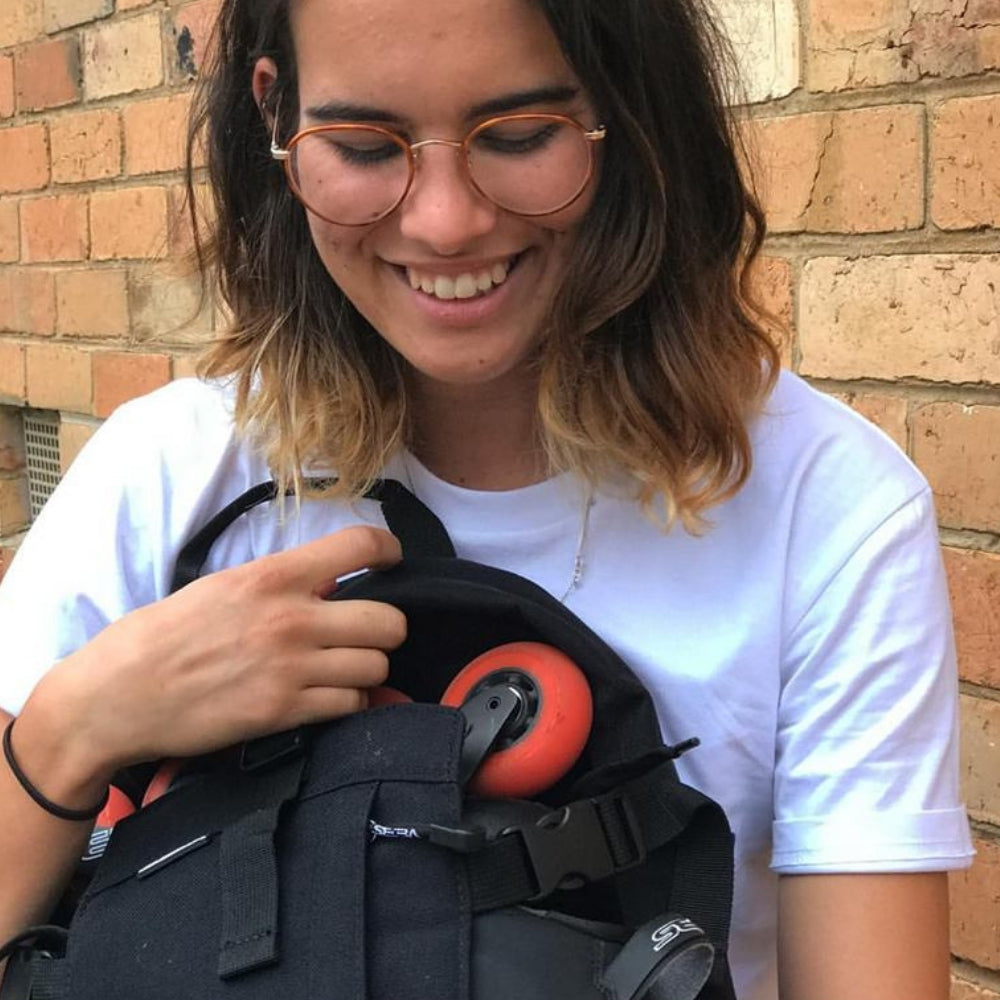 We asked our team rider Claire Browne to go through her skate gear to share what she likes to use for Freestyle and Slalom skating...
Boots
Jan 2019 - FR IGOR Pro Skates (review coming soon)
Dec 2018 - SEBA WSFC's 
Before that, I had SEBA KSJ's! Both have a triangle cuff, allowing a lot of ankle flexibility by sacrificing a little of the support a traditional cuff offers.
I really like the flexibility because it allows me to do a lot of my weirder moves, and much more expressivity in my freestyle!
There is no magic skate when it comes to advanced slalom, and making the decision between the technical support of a classic cuff, and the flexibility and smoothness of the triangle cuff often comes down to personal preference.
Frame & Wheel Size
Currently using a 231mm pre-rockered SEBA frame
231mm is the shortest length commonly used for slalom, and It allows for the really fine movements between cones.
The prerocker allows me to have a full set of 76mm wheels, rather than the traditional 72-76-76-72 that a 231mm frame allows. This means the gaps between wheels is smaller and you get a more fluid skate, also bigger front and back wheels are slightly more forgiving when trying one wheel tricks. This does however mean you can't go back to a flat setup if you want more stability, personally, I found that once I adjusted to a rocker setup I can't imagine going back to flat!
Again there is debate between using the smallest frame possible vs a slightly larger 243mm frame, as the larger frame and wheel size can offer a smoother skate with more surface area contact while doing wheelings. As usual, it comes down to personal preference!
Wheel Type
Currently testing the FR Street Invader wheels 
With the FR street invaders I found that for my style of outdoor skating they're a little soft, and therefore not as durable as I would like them to be. In terms of speed, they're not bad, and I find they are quite good on polished surfaces, like the shed rink!
I'm both an outdoor skater and I've got a really European style so I buuurn through wheels quicker than most. My biggest gear challenge is finding wheels that are grippy enough that I can take risks without fear of slipping; while also dense enough to be durable.
For years my absolute favourite wheel was the Gyro FSK, and I'd still recommend them for outdoor slalom, for their grip/durability balance.
But my new XG freeride wheels are the best I've tried for outdoor skating; Gyro have used a new dual density manufacturing technology which I don't really understand but I'm finding them to be so durable without sacrificing any grip (88A durability that skate like 86A.. magic!). I expect I'll be skating these for a good while.
Bearings
I've cycled between Seba (or FR) Storm Bearings and Seba (or FR) ILQ-9 Bearings.
Both have their strengths, however, I've found that while the Storm bearings are more resistant to the elements (they are sealed shut, keeping out water and dust) my favourites are the ILQ-9's!
I find the ILQ-9's are much faster and smoother, and while they may not be water resistant, they can be opened for cleaning and re-lubrication, unlike the storm bearings, which can do a lot to extend their life! And more importantly, much more fun to skate!!
Laces
I used the stock standard Seba laces for yeeeeears and didn't think anything of it, but Bayside recently let me try out both Cado Motus laces and waxed Derby Laces!
I'd highly recommend either, as both are much grippier than the stock laces and allow you to tighten your skate much more evenly than relying on the three straps. This spreads out the pressure, easing the balancing act between foot security and pain.
Also, I really like all the colour options ;)
 Skate Bag
 I looooove my SEBA Slim back pack bag!
I've got it in black and I take it into the city with me at least 4 days a week!
My previous skate bag was a standard Seba backpack which suited me great however had the skates sticking out the side which was much harder to manage in crowded train stations and tight spots.  I've definitely knocked things over in shops with that old bag.
My new slim bag stacks the skates along your back so they don't stick out, and the weight on your shoulders is much more evenly distributed!
Since I often skate after uni, I can fit my laptop, an exercise book, a jumper, cones and sometimes my speaker in that bag perfectly, and it packs up pretty small so with skates it's about two briefcases thick, perfectly manageable for commuting and carrying all day!
Socks
The best socks I've ever used for skating are MacPac hiking socks, however, I haven't really tried anything new since I found them about 5 years ago so I'm keen to do some experimenting haha ( update note: Claire is currently testing out the new FR nano skate socks)
The main focus for me and socks is that they are tight and thick enough! Nothing worse than loose socks that bunch up and pinch when you put your boots on! I have a narrow foot too so often find I need a little extra padding to fill the boot. I always go for a sport style sock with a crew style collar, because I find they're thick enough to be supportive, while also holding tight and staying in place.
The other key factor is material! I find that when I haven't done my laundry and have to use my cheapy Kmart socks instead, I get much sweatier, and therefore blister much more readily. There are lots of different sport sock materials and usually anything that is sweat wicking and synthetic is going to serve you a lot better than materials such as cotton!
Extras! What I always carry with me!
Skate tools!! Always!! There's nothing worse than something moving or shifting mid skate and having to stop skating!
And very importantly, I often skate with my phone in my pocket… a heavy duty phone case is non-negotiable haha, I have broken far too many phone screens from it flying out of my pocket or me falling on my backside!
If I'm skating with people I love bringing my speaker (when I remember to charge it)
Slalom is always so much more fun to music, when I skate alone it's usually just me and my headphones but when there's a few of us it can be great fun, and we always build up a little audience of passers by!!