Best Roller Blade for Aggressive Skating and Commuting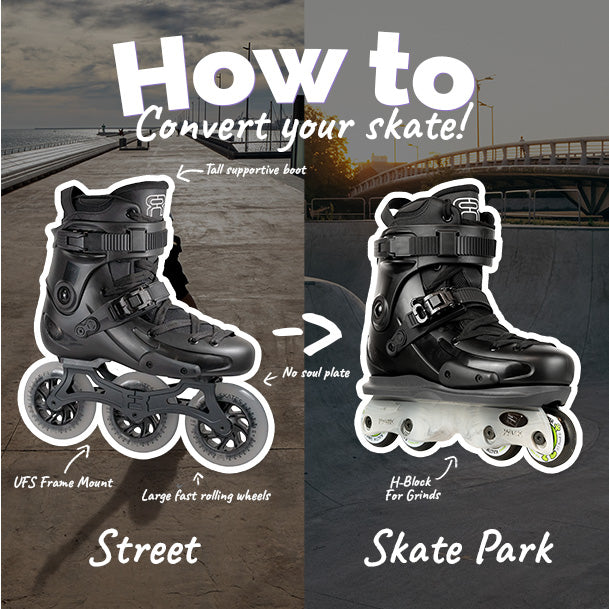 Looking for one skate to do it all can be tough. When trying to find an inline skate that will comfortably cruise the streets, tear up the skate park and also let you do some freestyle slalom skating on the side, there are a few things to consider.
What to look for when buying a rollerblade for commuting and park skating
For skate park skating, also known as aggressive skating, an important thing to consider would be to make sure the boot has heaps of ankle support and a stiff cuff. This will give you more control if you want to put on larger, faster wheels for cruising the streets. Something to note when looking at boots is to ensure they are designed with the UFS (universal frame system) mounting system, so they are compatable with most aggressive frames. 
What is the best frame for aggressive skating?
Aggressive specific frames generally use smaller wheels that keep you lower to the ground and include a h-block groove, allowing you to do grinds on coping, ledges, and rails. However, these small wheels make for a rough ride when trying to cruise the streets. The best recreational skating frames use big 110mm wheels that will smooth out bumpy surfaces and give you much faster rolling speeds with less effort.
Best rollerblade boot for both inline aggressive skating and rollerblading outdoors
For the inline skate boot, you will want one that has the ability to easily swap frames between a small wheeled aggressive style frame and a large wheeled street cruising frame. Look for a skate that has UFS mounting points, this will future proof you and give you a huge variety of frames to choose from in the future! Almost all aggressive skates will use the UFS system, so you have a ton of boot options to choose from.
The History of the Universal Frame System (UFS)
To understand why the UFS mounting system is so important to having a great all round skate option and why it gives you so many inline frame and boot options, it's helpful to understand the history of the Universal Frame System.
The UFS system was created by K2 back when every skate company either had their own mounting system or they riveted the frames to the boots. This meant that customisation was not really an option. If you wore out or broke your frame you had to get a whole new skate, and it was much trickier than it is today to swap the frame and wheels over to get a different setup.
It took a while but eventually most of the skate manufacturers producing aggressive skates got on board and produced skates with the UFS mounting system, a simple two bolt design that holds the frame to the skate. At the same time this came along we got what's known as the soul plate. The flat bottom of inline skates designed for park use became a replaceable part, which increased the longevity of skates. 
If you have ever wondered what all the parts of a rollerblade or inline skate were called we have this handy guide!
How to swap your skates between an aggressive skating setup and a recreational skating setup
How to convert your aggressive skate to a recreational skate
If you have a pair of aggressive skates from the last decade that you want to use for commuting or recreational skating then you have a really easy starting point. All you will need is a frame kit that comes with bigger wheels! There are a number of options out there that would be appropriate such as a 3 x 110mm kit that will easily convert your skate from an aggressive skate to a recreational or freestyle skate. If you have a skate with UFS mounting check out the frame kits below!

Frame Kits for converting to a Recreational Rollerblade
Frame Kits for converting to a Freestyle Inline Skate
Frame Kits for converting to an Aggressive Skate.
What is the best inline skate for aggressive skating and recreational skating?
The FR UFR model has incredible versatility. From the factory the skate comes in multiple recreational models and aggressive models. The FR UFR boot is built around an extremely supportive boot based on the FR1 freestyle boot, but with a UFS mounting that gives it more varied frame options. It also comes in a version with an Intuition liner, the black version is linked here, and the white version is linked here. Models like the FR UFR AP come pre-built with a soul plate and aggressive skating frame so you're ready to hit the skate park. For a wizard skating setup look at the FR UFR 90 model which features a 90mm rockered frame, great for perfecting wizard skating moves!
The best Hybrid or all round inline skate setup (one skate to rule them all) would be the budget friendly FR UFR 310 recreational rollerblade bundle. We offer this bundle for only $150 extra, which comes with a Kaltik aggressive frame kit and soul plate. This lets you convert the skate from commuter to aggressive skate as you need!
Check out the FR UFR 310 Aggressive Bundle Here!
Check out this video of team member Todd skating the two setups in one day!

Perhaps your skates can already convert between recreational inline skates / aggressive skates? Get in touch and we can chat over options or point you in the right direction!