Christmas gift guide from Bayside Blades team riders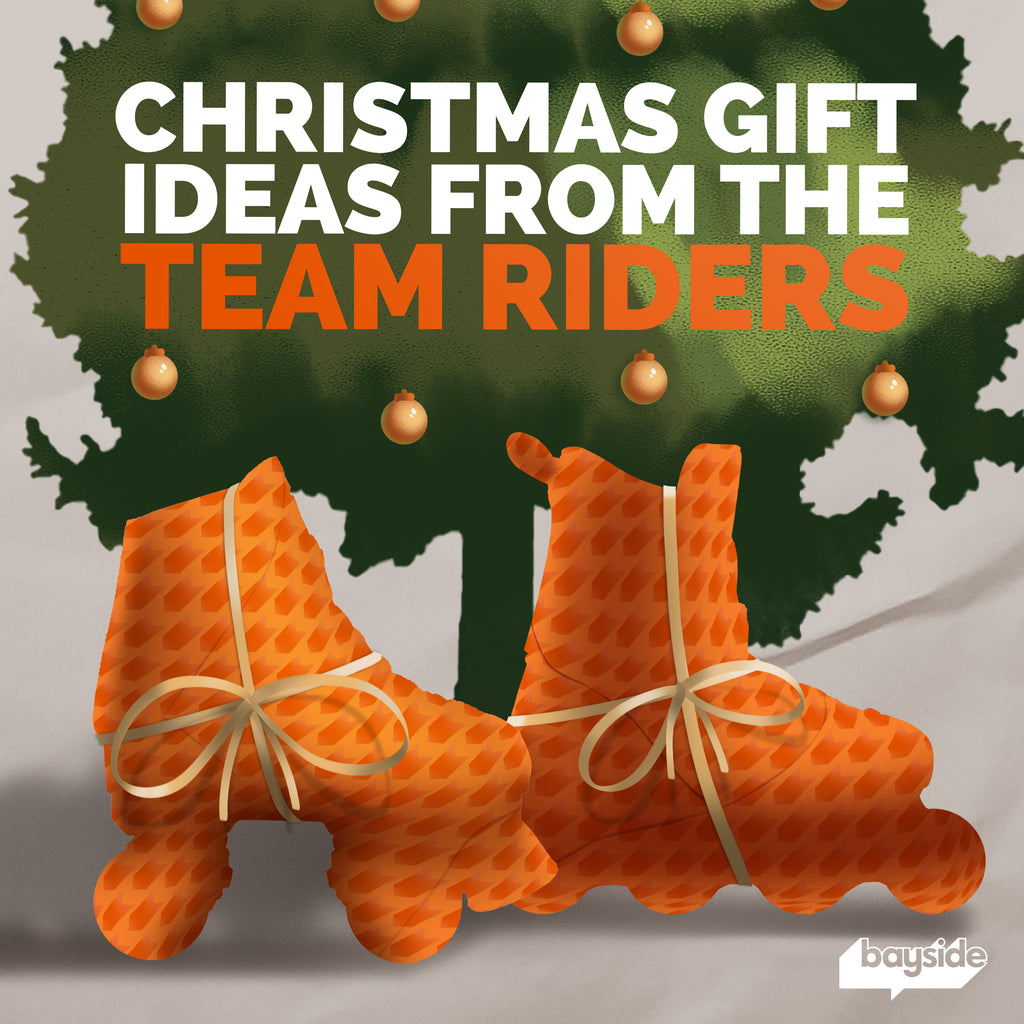 Christmas is right around the corner and you're wondering what are the hottest stocking stuffers for your inline and roller skating friends and family. 
We asked our expert team riders their thoughts and who better than the Bayside Blades skate team to help you nail the perfect skate gifts this Christmas. Here are their picks.
Jess Jackson – Roller skater, street and skate park
"My partner is an inline skater. Nothing beats the feeling of rolling on fresh wheels and bearings, so I would buy him the FR Anthony Pottier wheels 65mm 88a in black and a set of the FR Storm bearings."
"The short stem Chaya Cherry Bomb toe stops in turquoise and Bont Waxed Skate Laces in pink for my roller skating friend who loves to mix and match her skate accessories."
Jesse Matthysz – Inline skater, freestyle slalom skater
"For little ones who may not be ready for skates I would highly recommend a Micro Mini Deluxe scooter, I got one for my niece for Christmas last year and she hasn't popped it down since. I think they're really good because of the colour options and accessories available."
"A great choice for kids and young adults are going to be the FR AXS/ FR EZX. These skates can be a great choice as they are size adjustable, come with a brake and come in a great variety of colours."
Harry Stogdale - Inline skater, speed skater
"Bones Swiss bearings! Nothing like new bearings to refresh your ride."
"Cado Motus Skinsuits: with fresh designs and high quality materials."
"For myself the Bont Avenger Hardcore wheels: my absolute favourite wheels, these babies will change the game at the next major race meet."
- Harry Stogdale @harrystogdale
Giselle Stogdale - Inline skater, speed skater
"Impala inline skates would be my top pic gift for any of my non-skating friends (girls in their 20s!!). It's becoming super trendy to have skates since lockdowns- a good summer activity vibe I reckon!"
"The Cado Modus waterproof skate bag is also a long time favourite of many speed skaters!! (Harry's go-to) I can remember way back about 8-10yrs ago, EVERYONE had this bag (the earlier generations of it) and it became super cool to have (in my eyes at least)."
Lauren Foote Roller skater, roller derby skater  
"The Reidell Dart quad skate package is a great gift idea for kids 8-14 and I know something my nephew would love. It also comes in cool colours, which lets face it is 80% of the fun."
"I'd be pretty stoked with a pair of Bont waxed rainbow laces. It's been a weird year- and we could all use a little colour to light up our vibe."
Oscar Skidmore - Inline skater, speed skater
"For mum because she's been doing some skating during lockdown BONT Park Star Tracer BPM Package."
"For myself I would like to try the aggressive inline skates, the Razors Cult Copper V2 Skate look really cool."
- Oscar Skidmore @oscar_inline_speed
Hannah Gandy - Inline skater, freestyle slalom skater
"The S-One Lifer helmet to keep safe - I already have one."
"A SEBA Master Allen Key for any blader who has ever asked to borrow your allen key."
Chris Pullar – Inline skater, street skater
"I would get a fresh white Razors Humble backpack for my girlfriend to customize and carry one of her various skate setups."
"I'd wish Santa wouldn't be so bloody out of stock of white GC FLT4 frames so I could slide through summer like an ice block off a bench top."
Stuart Cowin - Inline skater, speed skater
"Personally I would go for a new backpack, the Cado Motus Waterproof backpack for when I get caught out on the bike travelling to/from work or training in the rain."
"The other one would be laces in various colours, cause sometimes I just feel like a change, what easier way is there to change the look of your skates by changing the colour of your laces or the pattern they're laced. So some Bont waxed laces in various colours."
"If you are not sure, a Bayside Blades gift voucher is always a great option."
Brad Watson – Inline skater, vert and skate park
"I have lots of nieces and nephews that love skating so the new, fresh as heck Kaltik Black Ninja Skate are a winning pick."
"For myself, I need some new cruiser - recreational skates. Hopefully Santa hooks me up with some FR FR1 3 X 110mm Skate "
- Brad Watson @bradleyharoldwatson
Alex Myint Inline - skater, speed skater
" K2 marlee junior inline skates in the white and baby blue for my niece."
" CADO MOTUS Omega helmet size M and in the white for myself."
Need help? If you'd like some help choosing the perfect Christmas gift or have questions about sizing, please reach out to our team via the live chat or give our friendly team a call at the shop on 1300 665 272.