10th World Freestyle Inline Skating Championship - Bangkok, Thailand. Nov 2016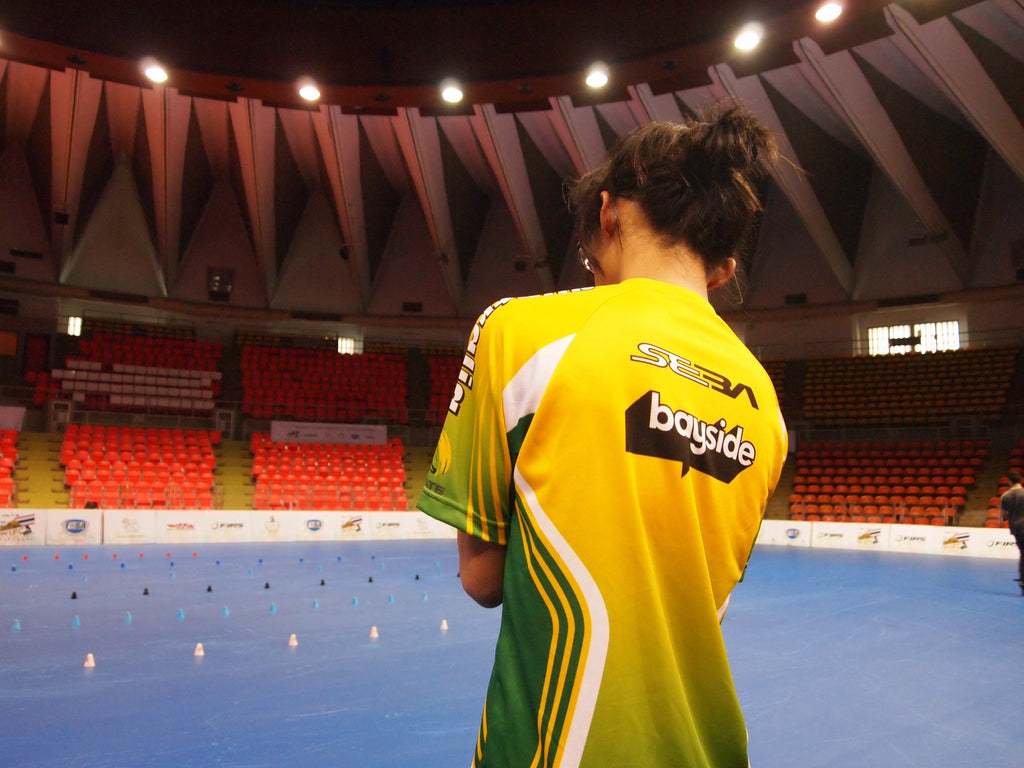 In the middle of November 2016, three slalom skaters ventured to the 10th World Inline Freestyle Championship in Bangkok.  Neil and Andrea accompanied Liam, Keven and Clare to the four-day event. All three skaters had never competed at this level, so there were the associated jitters which was to be expected and managed either with quiet confidence, or bubbling enthusiasm.
The indoor venue was a blessing. Being a basketball stadium, it was air-conditioned to the point of being quite chilly and also much appreciated when Bangkok delivered a downpour that would have sent everyone scurrying for cover. The organisers had to build a purpose built floor to cover the court, which was painted blue which consequently gave everyone's wheels a new hue!
The first event was speed slalom, which was incredibly popular with the huge Iranian team of 18 skaters. Keven was our Aussie to participate. This is a sub 4.5 second event for the best skaters. It features a 'run in' after a standing start, similar to a time trial start in speed skating and then slaloming through 20 cones only on one leg! Some skaters are so fast that video has to be referred to ensuring that the skater, did indeed, pass all 20 cones. If cones are kicked, there is a penalty and if 5 are disturbed, it is classified as no time recorded event. For Keven, his two runs saw a NTR against his name. 
Next event was the Classic Slalom, which gives skaters 2 minutes to work their choreographed routine and weave their skating magic over the three differently spaced cone lines. They are judged based on level of trick, style and how they work with their music. There is no uniform, or costume, so a variety of clothing was seen including a figure skating costume.
Our youngest of the team, Liam had to open the event of 40 senior men, as he did not have a world ranking, and performing in alphabetical order of country name. The judging panel have seen cone kicking frenzies and basic tricks in previous comps, but the feedback was that Liam started the comp on quite a high level. He was followed by the three Sundanese skaters who had adopted Australia as their sister country being a small team and all new to the sport. They also performed very well.
For Liam, he got to spend some good time on the big red world champion couch as other skaters did their routines, their rankings were calculated right away, making it easier to see who the top three were the whole way through. Slalom skating is usually dominated by skaters from Asia or Europe and this event was no different with two Russian brothers taking the top two places. Liam eventually placed 31st ahead of some of the skaters from Malaysia, Indonesia and Sudan.
The third event was battle slalom. Two 30 second individual runs to try and out trick the 3 fellow battlers. This type of event is a lot more trick focused and not so much on flow or style, as it is performed with music chosen by the contest organiser. 
The top two go through to the next round. For Liam, he got to experience that 30 seconds of sheer terror that envelopes most skaters when it's their turn only twice! 
The fourth day saw the slides and the high jump comp take place. None of the Aussies participated and it was good just to watch. The slides are judged on how many switch ups and difficulty of getting into each position..all within a 20m judging zone!
High jump is popular with the European skaters, but it did not stop one Chinese skater who developed his own run up technique of 100% flat out and kamikaze himself either over, or at the bar. Needless to say, he quickly became a crowd favourite until the two French guys upped the height and the ante. At 152cm, the Singaporean judge could nearly walk right under the bar.  In Bangkok, this was only a demonstration sport and will be a great addition to this sporting carnival. 
The 11th World Championships will be held in Nanjing, China in August, 2017 in conjunction with a 3 week multi skating discipline event. 
All three skaters have started training for next year.
Who else will join us next year?
Written by Andrea Winzor