What are the benefits of skating big three wheeled skates?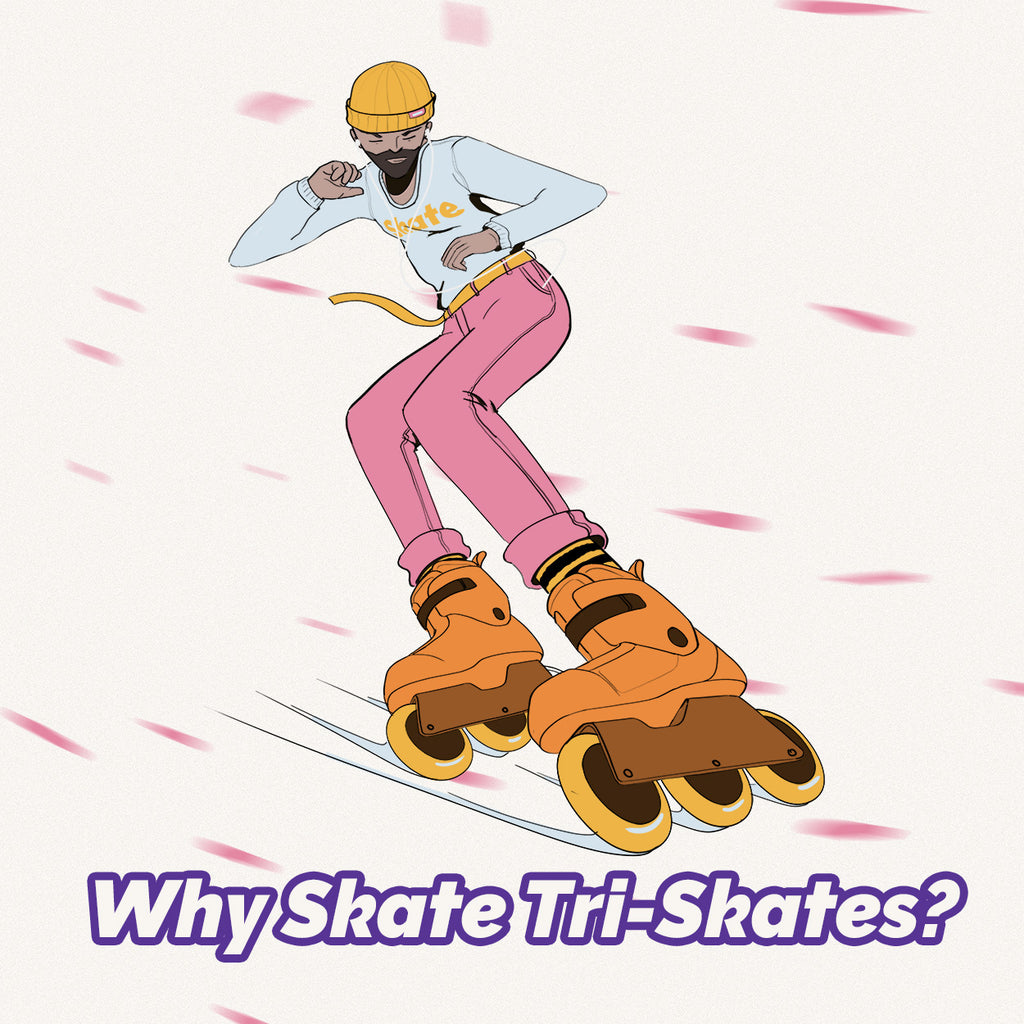 Tri wheel skating is a rapidly growing phenomenon for many fantastic reasons. Skaters can now experience increased capabilities in roll, speed and agility over conventional skate setups. 
Beginner? No worries! The frames have brake options and decent quality boots will provide plenty of control and stability.
We'll touch on some key points on why it's worth rolling on three. 
Increased roll.
Once the larger wheels have built up momentum, you can enjoy effortless coasting with less stride required to keep your speed up. This makes commuting a breeze and more roll always equals more fun. 
The larger wheels do however need more time to accelerate in comparison with smaller wheels. That being said, smaller wheels do top out in speed faster and that's when the 100mm plus wheels shine.
Significantly smoother ride over rough terrain.
Larger wheels (100mm plus) are far superior in comparison to anything smaller negotiating over rough terrain. It will be much easier to skate over those cobblestones and cracks you previously struggled over in your smaller wheel set up. The limits of where you can skate are really up to the skater's own skill level. There's plenty of footage of skaters riding skilfully on dry grass and even hard packed dirt paths on large wheel skates.
Great manoeuvrability.
The three wheel frames provide a nice and short wheelbase providing surprising agility. Perfect when you need to zip around tight areas. As the frames are taller you'll be able to get extra lean onto your edges for greater carve and edge control. 
Higher top end speed.
Speed inline skaters have always been pioneers in using progressively larger wheels for winning races and breaking records.  
By using the relative same size wheels you'll be experiencing incredible top end speeds. Faster speed on a short wheelbase takes some practice to get used to, so be sure you can control your speed effectively to avoid serious injury. 
Wheel choice.
Once you are in the larger wheel realm of 100mm+ you are spoilt for choice. Wheels come in either standard, mid-range or high-end quality from an array of amazing wheel manufacturers. As you go up in the spectrum, wheels have increased grip, roll and speed to suit all levels of skaters. A great example of a high-end wheel is the Red Magic poured by MPC. These are used in competitive speed racing and will excel for the skater after a premium wheel option for general use. You certainly don't need to be an expert skater to be able to enjoy the quality! 
Ready to give it a go?
You can either choose from a great range of complete skates like the FR FRX or Seba E3 or the FR Freeride series like the FR FR1 3 x 110mm and Seba High Light 3 x 110mm
Almost all Seba brand skates can have a three wheel frame as a bolt on option. Get in touch with us and we'll help build your dream set up. Some of the skates that will work great include the FR FR1, Trix 3 x 110mm and the value priced FR FR3. 
Check out our range of Tri skates here.
If you already have a capable boot you can simply purchase the rolling stock for a direct bolt on fitment. Get in touch with us to check which frames will fit your boot.
Below is an example of an old Salomon boot we transformed into a brilliant 3 wheel cruiser.
Here are a few examples of some frame possibilities:
If you have a Universal Frame System mount (UFS 165mm mount most common on aggressive skates) there is the FR UFR 3 x 110mm 
For other standard mounting systems (like Seba skates) there is the lightweight Luigino Striker MK2 frame or Powerslide Pleasure tool frames. 
The tri skating revolution brings a winning combination of smoothness, roll, speed, control and manoeuvrability like never before. These are excellent reasons to either begin, upgrade or return to reignite that skating passion!