Getting Ready for the VRO22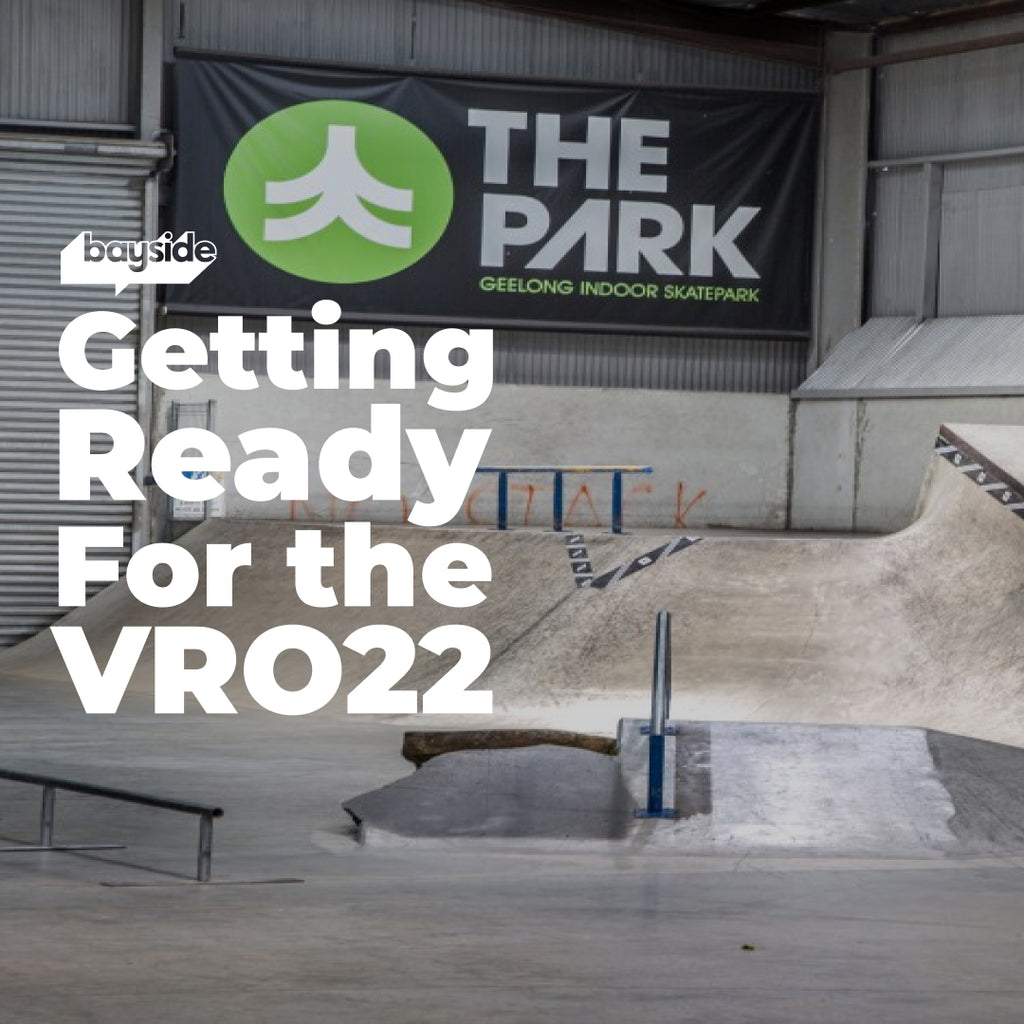 The VRO is coming up quick, so we thought we would put together a handy guide. It will be helpful if you have never been to this style of competition, or if  it's been a few years and you're excited to get back into it!
We interviewed one of our favourite people, who happens to also be Bayside Team Rider Simon Kelly (also known as 'SK') on what he's planning on doing in the lead up to, and during the event!
Hey SK, how will you get there? VRO is at The Park in Geelong!
"I'll be driving or getting a ride with one of the Melbourne crew. For some reason, the drive from Melbourne just seems so long, so it's good to have some people for entertainment in the car on the way!"
Who are you looking forward to seeing?
"Super keen to see Matt Caratelli and Tom Scofield shredding the coping box, and seeing what Josh Clarke can do at his usual full speed! I know Tom Cameron has been skating The Park a few times, so I'm keen to see how the competition brings out the best in him too. It's been a while since seeing a lot of the Melbourne crew actually, so it's going to be great to have the community in one place."
Which categories will you compete in?
"Advanced. I'm not sure exactly what classifies as advanced or intermediate as it's self-selected, but I'm looking forward to having a jam session with a bunch of legends."
Where is the Afterparty?
"I have absolutely no idea, lol. But I know where Brad lives, so I'm sure it won't be too far from the South Yarra area.
See y'all at VICs!"
Here are some of our tips on what to bring!
Helmet! Helmets are required for skating parts of the park in general sessions, and will be required for competing.

The Park has a small cafe at the venue, so if you want to grab some food at the venue you can!

Bring water so you can stay hydrated during the event.

Spare parts and tools! Things happen, bearings die and wheels wear out, so make sure you have what you need on hand and tools to swap them out so you can keep skating.

A change of clothes or spare t-shirt never goes astray. After a few hours of skating, you might want something a bit less sweaty.

Friends and family! We want as many people involved, so if you want to showcase some awesome skating to your friends, bring them along.

Feel free to come skate the park during the day at the earlier sessions in order to warm up for the event.
I hope you're as excited as we are for the event, we hope to see you there!
If you are in need of new skates or parts before the event, here are some great options!
New wheels! 
Kaltik SF 64mm Brand wheel if you're looking to squeeze a bigger wheel onto an anti rocker setup for the best rolling speed.
Kaltik Face 59mm wheels if you're running flat or just prefer a lower profile wheel.
If you want one of the fastest wheels out there, the CJ Famus wheels roll better than just about everything else.
The Bont Park Flows are really great hard wheels that will skate really fast and have little risk of wheel bite when doing grinds and slides.
The Bont Street Flows are a great option if you want a softer rolling wheel with a bit more grip that works really well in the skate park and are also comfortable on the street!
In need of new skates?
Razor Graphite SL
The Razor SL Graphite is a classic aggressive skate!
It really suits those who love a wider fit, along with a more generous soul plate to land those grinds!
Coming in a clean all grey look, this skate can be matched with almost any outfit, so you will look good no matter where you're skating.
If you're keen to hit the skate park and still want a skate that is perfect for street skating, you should consider the Bont Parkstar Tracer Package.
The Bont Parkstar is a supportive high-top boot with a hidden 23mm heel rise ready to keep you on your toes!
The Bont Tracer Plate is a seriously strong aluminum plate, ready to take any beating you are gonna give it at the skate park or on the street!
As always if you have any questions don't hesitate to hit us up with your questions!