Andrea and her recreational skate gear!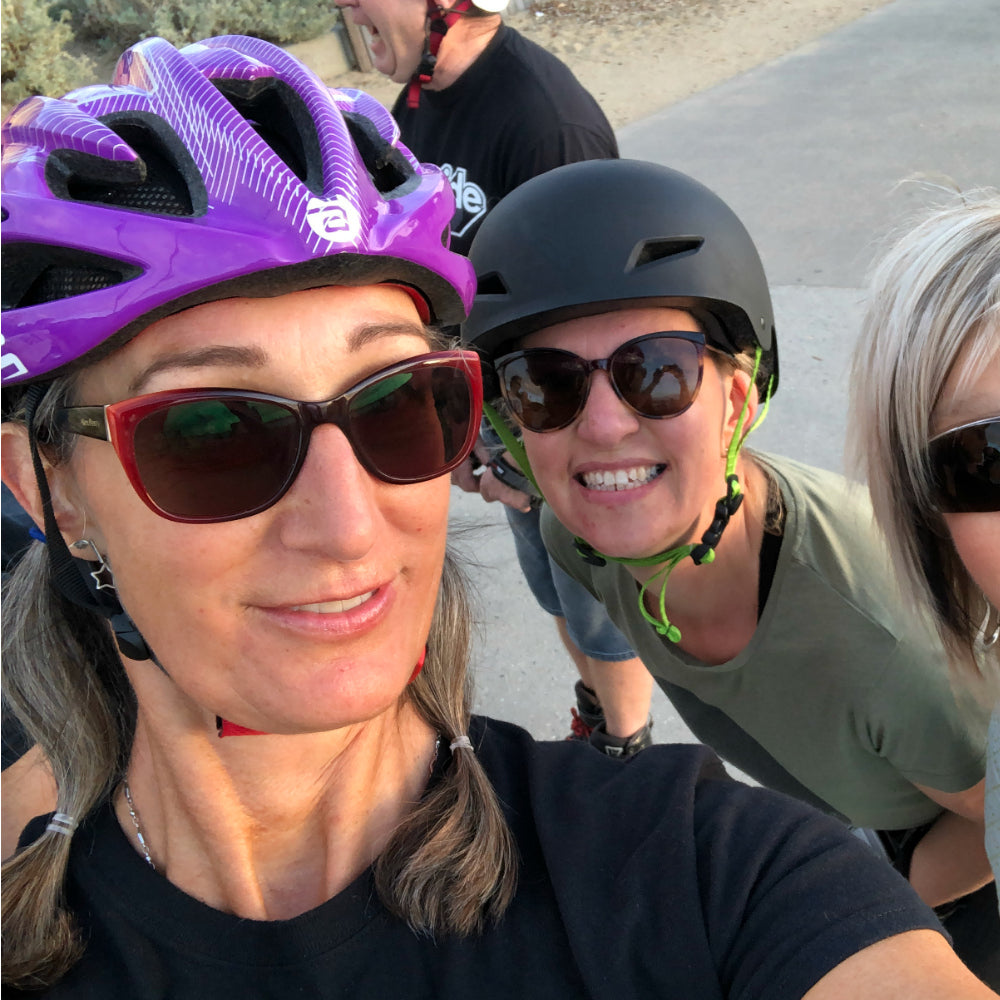 There are a number of factors that influence your choice of skates including skating experience and chosen discipline, price, features and of course..looks!
For me, it also comes down to what is going to work best for an ageing body! Genetics caught up with me and in 2017, I had to have a total hip replacement. Skating had become an increasing painful affair for the 7 years that preceded surgery.  Any form of skating had to be retired by end of 2016 and I was happy that I had had the experience with skating for many years and was quietly resolved to the fact that I may not ever skate again. In 2016, my Seba Trix went to another skating instructor who could put them to better use than me. 
But things change!
Two months after surgery, I was back on my Seba Igor slalom skates. Years of skating had kept my legs strong, which also helped in pre-hab and then rehab. 
Skating pain-free means confidence picks up at a phenomenal rate and I realised I COULD skate outdoors again! 
I had to get myself some new recreational skates! Of course, my go-to skates were the Seba Trix. Previously, I had used a 4X90mm setup, but with the flip to 3X100mm+, it was an opportunity to also make the change. The standard black cuff, laces and buckles with a coloured Seba Custom Kit to give my skates a colour lift. Having a contrasting lace makes it easier to see the laces which helps when gearing up after the sun goes down.
My frame of choice is the Powerslide Pleasure Tool Frame……along with the Bont Red Magic 110 Firm wheels race wheels. (The yellow badging reminds me of the very first pair of inline skates I ever laid my eyes on. It was 1976 and my best friend told me at school how she had a pair of roller-skates. As soon as I could,  I was over to her house but was terribly disappointed that not only were they strap on skates, they were 3 bright yellow wheeled inline skates! I said that they would never work and we went swimming in her pool instead. It's amazing that all these years later, I  now skate a 3 wheeled inline skates with yellow (on the) wheel! The irony isn't lost on me).
Having a break from skating means being able to return as Captain Super Sensible. Using a Pleasure Tool frame means that I could add a Powerslide Roadhog brake. I'm sure that the speed slalom skaters will look down their noses at how I am using the frame but having an alternative form of speed control is very important to me. T-braking, etc places a lot of load on my joints and groin. I want to keep this hip for as long as possible! The Roadhog brake fits other frames too. 
I always wear a helmet even though I am 100% confident in my own abilities.  It's other users of the pathway that I am wary of. In my break from skating and then coming back to it, I have noticed that the amount of electrified bikes and longboards has increased on our pathways with many users testing the upper-speed limits of these devices. After age 50, our spacing between our brain and skull is a lot less than in our 20's. Head trauma can become a lot more significant. In Australia, it is not Federal law to wear a helmet (as it is for scooters and skateboards), however, travel to South Australia and the state law is that you must wear a helmet while skating on inline and roller skates. My choice is the Cado Motus Helmet that is designed for speed skating usage. Having an adjuster dial means that I can still wear a skull cap under the helmet during winter. Please note that even though it's an EU certified helmet, it is not certified for bike use here in Australia.
I now always wear knee pads and prefer a gasket like the 187 Gasket since they fit neatly under jeans or shorts. They are not designed for sliding, and a more for impact such as a sudden downward fall onto the knees to help dissipate shock. Again..it's all about joint preservation!
My hands are protected with Powerslide Gloves that speed skaters will use for outdoor racing. The small plastic slider on the palm means you can slide rather than the glove 'gripping' the ground.
Oh, a Powerslide Finger Bell is rather handy to have for pedestrians that are not sure of what side of the pathway to use! A small 'ding' ding' is all that is needed from this little bell with a big voice. 
Here's a of my set up and getting the gear and skates on!  I'm amazed at how much my K2 Alliance Skate Bag can hold. Even a smaller bag with my skate shirts and socks all fit very comfortably (look for the way I 'throw' it of the scene in the video..). The Seba Skate Hook is great to keep close by for when skates need to be carried by hand. The padded handle makes it comfortable to carry a pair of skates with ease and is especially handy when using public transport if not using a backpack that can hold your skates.
Once all the gear and skates are on, this olderblader is ready to roll!
Andrea - Bayside Blades co-founder and owner.