5 Reasons to join a Social Skate Group!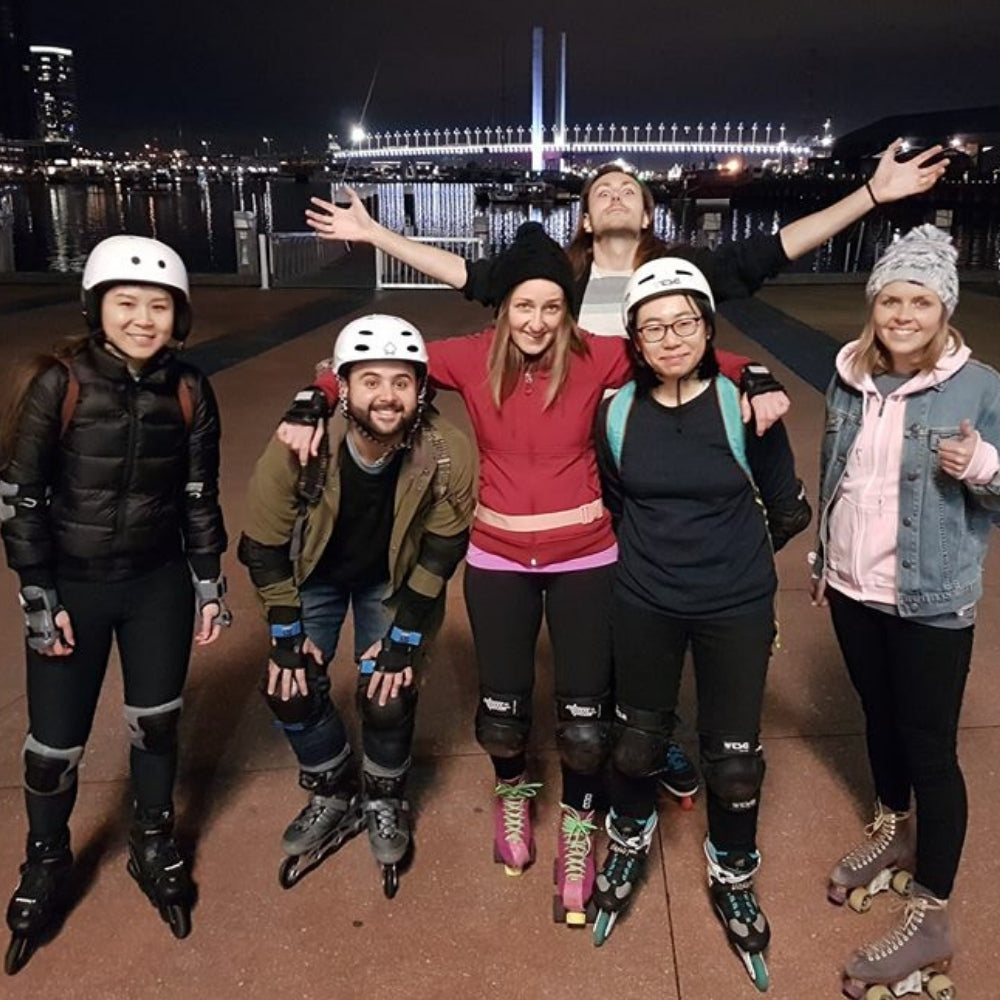 Social skate groups are super fun. What is a social skate group? Click here to check out some examples.
There's nothing like cruising with a group of skaters through the streets soaking up the atmosphere and scenery.  
Groups vary vastly in size from cosy small to huge masses. The most epic social skate I've ever been to is the legendary Paris night skate. Thousands of skaters gather to Montparnasse station with a police escort to close the streets. I skated with the huge rolling swarm all through Paris' busiest streets past the cheering cafe crowds and beautiful landmarks like the Eiffel tower. The course is around 25kms in total and there are frequent stops for traffic and a long break at the halfway point so ample time to rest. It was a fantastic experience to see so much of Paris in a unique mode of travel at night!
Here's 5 reasons to join a social skate group in your local area:
New friends and social skate connections.
One of the biggest merits of social skating. Make new skate minded friends and share your favourite areas to roll together. Reconnect with friends that you haven't seen for years and invite friends that are keen to begin or return! 
With so many active social skates groups around Australia taking your skates with you for those interstate trips is an absolute must. It's such an amazing experience to explore a different city on wheels.

Unique events
Throughout the year social groups have special events to enjoy. Some are as simple as a pizza and beer nights after a good days/nights roll. Other groups like Melbourne Freeride celebrate events such as Christmas, Halloween and the group's birthday. The Christmas and Halloween events are themed dress up skates and the anniversary of the group is a night filled with sweet treats, great music and an amazing party vibe. If there are no special events happening in your group, be the one to get something started! All it takes is a little organisation that will bring amazing fun results. For ideas and tips contact admins from the other groups to help you out with suggestions.
Talk skating and learn new tricks/tips 
The opportunity to meet and talk skating with other skaters is invaluable. The bigger the group the more experiences that can be shared. In my own 25 years of experience, I've found the skate community internationally to be generally friendly and helpful.  Don't be shy to ask them for any tips to improve on your own skating or be that awesome person that helps another out with your own experience!
Diverse community
Skating is well known for how diverse its participants are. It truly crosses all usual social barriers. It doesn't matter how old, young, where you're from and what language you speak, as long as you have wheels strapped to your feet you're instantly part of an amazing growing global community. Having personally done quite a bit of skating around the world, I've had the pleasure to enjoy the rolling company of a huge variety of people from around the world.
Beginner options 
If you're just starting out street skating some groups do have beginner-friendly options. Get in touch with your local group to see what is available. Melbourne Freeride has their introduction sessions for those just starting out on the street or do have some experience but are looking to find their legs before joining the bigger group.
If there is no option available, simply start your own by posting about it in the group and encouraging other rookies to skate with you! There are so many skaters out there at an introductory level just looking for a friendly group to roll with.
Remember that all social skate sessions you participate in are purely casual and social events. You always skate at your own risk. Protective gear is strongly recommended which includes helmet, wrist guards, knee and elbow pads. You are always completely responsible for your own safety!

A lot of skating groups go outdoor skating. For skating outdoors it's best to use an outdoor specific wheel. Most inline skates come with a wheel that you can use both indoors and outdoors. As do most recreational Roller Skates / Quad Skates. Roller Derby skates tend to come with a harder indoor wheel, so it helps to get some softer outdoor wheels to make your ride a lot smoother on the rougher outdoor surfaces! If unsure about your wheels, give us a call anytime or email us and we can help you out! 
Here are some links to social skate groups around Australia:
Free Sk8 Brisbane Inline and quads
Brisbane Bladers - Cityskate - rollerblading / inline
Here are some international links
New York City Wednesday skate (this breaks for their Winter)
New York Wednesday night skate community page
London Friday, Wednesday and Sunday stroll skates