5 Reasons to join Roller Derby!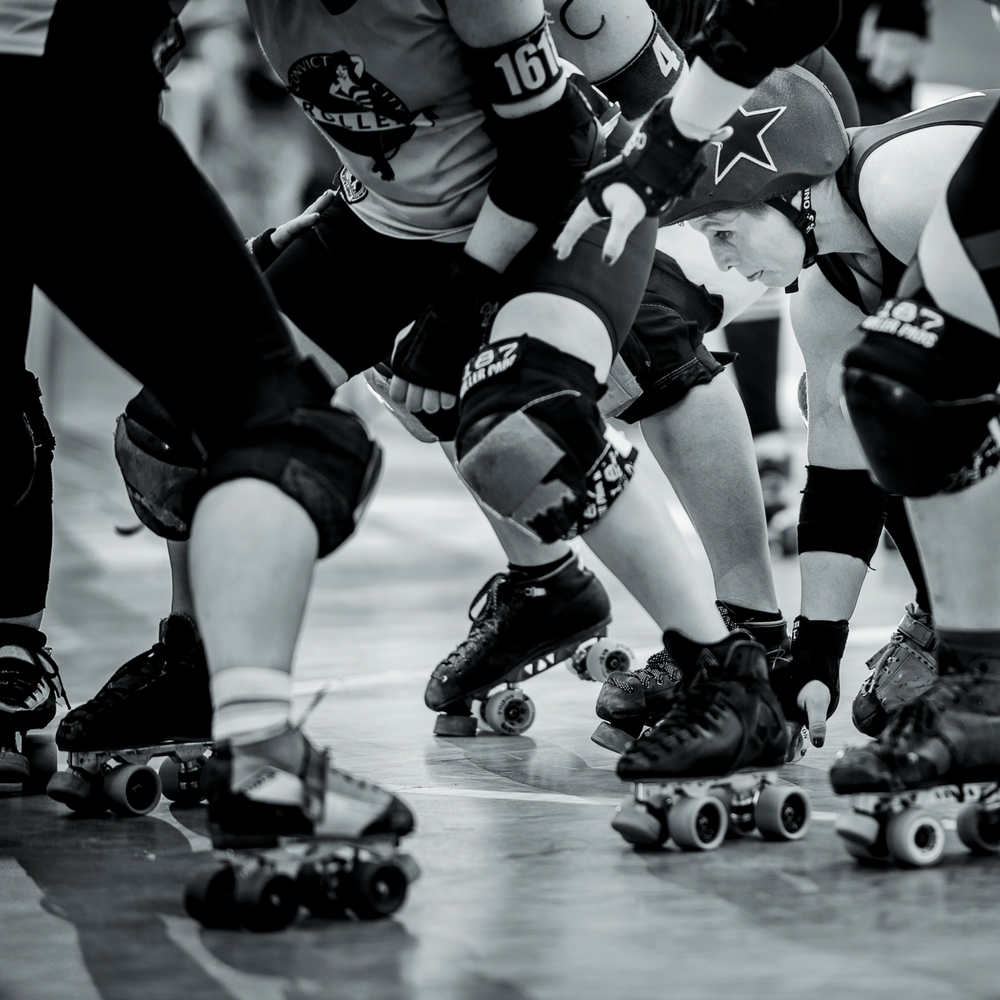 What is roller derby?
It's a fast-paced team sport, that mixes elements of speed skating with contact sports like grid iron or rugby (but no, there's no ball). It's all played on traditional rollerskates, too! Check out some footage on wftda.tv.
If you've been to see a game, you'll know it's high-adrenaline fun. Here's a breakdown of why you should join a roller derby league today;
1. Fun!
Seriously. Learning to skate fast, turn left, take hits and give hits is just phenomenal - it's almost like hockey without the three-inch rubber puck to think about.
2. Community
Joining a league or club becomes the start of a journey with a group of people who become like family: people who watch you fall, or cause you to fall, who celebrate when you knock them over and validate your pride in a new big bruise! Whether the league is 6 people or 60 people, training three times a week with fellow rollerskaters leads to a bond like few others.
3. Fitness
Skating fitness isn't like gym fitness or running fitness. You'll find yourself squatting a whole lot, building up powerful quads, glutes and mega-defined calves. You're always firing fast-twitch muscles when you're on wheels, improving your general core strength, coordination and helping your proprioception. You'll find yourself aiming for 27 laps in 5minutes, which is pretty intense cardio, and many leagues do off-skates fitness sessions that include burpees, body bridges and sit-ups! (it's more fun than it sounds when you're trying to keep up with the others!)
4. Challenge
Jumping over things, turning on a dime and being able to glide laterally across the room - there are always new skills to learn. Laps are just the start - learning about skating backwards, bracing teammates and timing different hits on opposing skaters. Just when you think you've got everything covered, it's time to practice them on your less-dominant foot or side!
5. Confidence
Gaining new skills and new friends often helps people develop and grow in confidence. It's common practice for players to adopt a 'derby name', a moniker or nickname that's usually got a violent or sexual pun involved. The result is that you're competing in front of a crowd like a superhero - you can embody strength or agility under your fake name without having to maintain your day-to-day mannerisms and behaviour.
--------------------------------------------------------------------------------------
There you go! Join up today to change your skating life.
You can search a list of the roller derby leagues near you by looking at the Skate Victoria website here.
If you're not sure what hardware you need to play derby, check out our Freshmeat packages page! We've made a few examples so that you know what to look for in comfy skates, knee pads, elbow pads, wrist guards, mouthguards, a helmet, a tool and some toe guards.
About the author:
Matt has been skating with a derby league since 2011.
He bench coached VRDL for 4 seasons, including a World Championship win in 2017.
He's played some men's derby, part of the team to win Australian Nationals in 2014 and 2015.
He also loved officiating for roller derby both on and off skates, too, so don't get him started on rules or stats.
Matt also works in the office at Bayside - read more here.